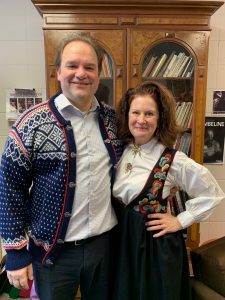 This May, I and my husband, Luverne Seifert '84, will be leading the Augsburg Sesquicentennial Arts and Culture trip to Norway. All are welcome on this excursion, especially those with Augsburg ties. Among many destinations, we'll visit such sites in and around Oslo as the Viking Ship Museum and a stave church, even stopping at a festival to celebrate Syttende Mai.
Luverne and I are theater people – he's a professional actor in Minneapolis and I'm chair of the Augsburg Theater Department — so we're particularly excited about seeing Oslo's National Theater and amazing Opera House, as well as the museum devoted to playwright Henrik Ibsen, where we plan to share some of our insights on Ibsen's work.
While doing a little research, I ran across a Norwegian word: Kos. I don't speak Norwegian, but from what I can gather it's pronounced "coosh" and describes all things that make you feel warm inside. It can literally mean a hot drink or the feeling that you get from spending time with dear friends or engaging with something you love like theater and art.
I'm embracing kos as a way to describe how I feel about this wonderful opportunity to travel to Norway. It's always kos, I would argue when you get to travel, learn and meet new friends along the way. Personally, kos could describe how Luverne and I feel about Augsburg. As alums, Augsburg brought us together 32 years ago and introduced us to lifelong friends whom we still see regularly today.
For example, this past summer, I joined a group of my fellow 1988 Augsburg theater graduates for a reunion at a house in the country, near Alma, Minnesota. We traveled from all over the country for a week of reconnecting. We've all stayed in touch in various ways through the years, following each other's life changes, families, marriages, career choices and, well, everything. Together in Alma, we danced, cooked, walked, swam and sat in a large screened-in porch till the wee hours of the morning reliving the most beautiful, funny and poignant memories from our time together at Augsburg. This event and all those dear Augsburg friends embody the definition of kos for me.
Similarly, Luverne has many friends whom he met through Augsburg theater productions of the early '80s. For the last 20 years, a group of us have gathered three or four times a year for what we've deemed "Dinner Club," where we choose a culinary theme and gather at one of our houses in the Twin Cities area to cook and enjoy a meal together. When we began, we'd bring along diaper bags, babies and toddlers. Now our children are grown and off living their lives. Still, our "Dinner Club" evenings renew us, ground us and give us the feeling of kos.
Our years at Augsburg were such a significant time for Luverne and me. As first-generation college students not really knowing what the college experience might be like, we graduated with expert preparation for our fields, enjoying deep relationships with friends and with each other. We're happy to say that two of our dear "Dinner Club" friends — Jenny Nordstrom Kelley and her wonderful husband, Kevin Kelley — will be joining us on this trip, which should bring extra Kos to the journey. Please join us! Together, we'll make new friends, have our own late nights, experience the beauty and inspiration of Norway together, and cultivate a whole lot of kos!