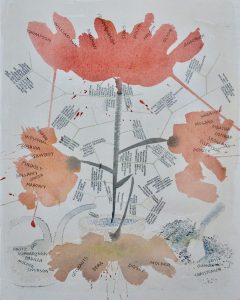 Join Augsburg Women Engaged (AWE) to celebrate a Sesquicentennial Project that lifts up the rich and beautiful history of the Art Department at Augsburg on Thursday, February 13 from 6 to 8 p.m. in the Gage Gallery of Oren Gateway Center.
As a theater major who was also very involved in the music department one department I didn't cross over with at all as a student was the Art Department (I had all of the arts requirements that one student could ever need). But I always remember classmates and friends talk about how much they loved their art courses, especially Kristin Anderson's Art History Class.
Fast forward to my work now at Augsburg one of the best parts of my role with the Sesquicentennial has been the opportunity to dig deeper and work closely with people and departments who celebrate their place in the history of Augsburg. One of those people is Kristin Anderson, her dedication to sharing and preserving Augsburg's history, it's stories and artifacts has been really exciting to witness. That's why the show Art at Augsburg, celebrating the Augsburg Art department is a visual and emotional celebration of Augsburg and this department. 
The Augsburg Women Engaged (AWE) leadership board fell in love with the idea of this show, some were art majors, some art lovers, all Augsburg lovers and wanted to support this show and make sure that all Auggies were encouraged to attend. 
So on that note! We hope that you will join us Thursday, February 13. Art at Augsburg is featured in both the Gage Gallery of Oren Gateway Center and the Christensen Center Gallery. Welcome at 6:30 p.m., please RSVP your attendance to this event. 
At the event, you will have the chance to hear from Curator Kristin Anderson and Professor Emeritus Norman Holen and gather with Auggies to enjoy this beautiful show.
To learn more about the event you can check out this video or this announcement.