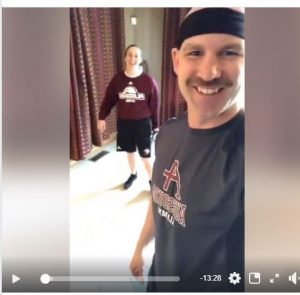 Question – How do you engage a community when you can't be together, as a community?
Answer – You, take it online!
Like many of you, I have been consuming digital content in a way I haven't before. I am a lover of arts,  sports, and food, but how do you pursue those passions from your own house?
In this time, we are seeing the world around us reach out and become closer in a way that I never would have expected. How lucky do I feel to watch Sir Patrick Stewart read a Shakespear sonnet each day? I'm following along with my favorite Bon Appetite chefs and have tried two new recipes (mushroom carbonara and slow-roasted gochujang chicken). In our house, my husband and I are trying to calm our worries and stir-crazy selves with these outlets.
Now, the Alumni Office is joining in on the fun. Last week (March 23), Melissa Lee '04, head softball coach and assistant athletic director, invited you into her home to spend some time on warming up your body and your mind. On Friday, March 20, Scott and I visited with you from our homes to let you know we were working on some ideas. Well, I am excited to share that our ideas are turning into realities and here is how you can connect:
Like and follow the Augsburg University Alumni Associate page on Facebook. Then, when content is added you will get an alert.
Even if you can't join us for the live stream you can go back and watch the videos that will live on the page.
So far we have the following content confirmed (all times are in listed central standard time)
Tuesday, March 31
1 p.m. – Alumni, Friends & Donors Town Hall outlining Augsburg's response to COVID-19
Join the webinar via this zoom meeting link: augsburg.zoom.us/j/931502799
Wednesday, April 1
12:15 p.m. – Storytime with Darcey Engen '88, chair of the Augsburg Theater Department
Friday, April 3
Noon – Renee Most '01, director of the StepUP Program
Monday, April 6
3 p.m. – Leon Van Eck, assistant professor of biology, takes us on a tour of the Hagfors Center Greenhouse
Other Confirmed Guests with Details TBD:
Hans Wiersma, associate professor of religion, Dr. Paul Mueller '84, chair of the Board of Regents, Curt Rice '84, Rector of Oslo Metropolitan University, Doug Green, professor of English, Destyn Land '19, and a panel of alumni speakers geared toward preparing the class of 2020 for post-graduation life.
We hope you will tune in and will consider engaging with us virtually. Please don't hesitate to contact me or Scott directly at alumni@augsburg.edu
-Katie (Koch) Code '01