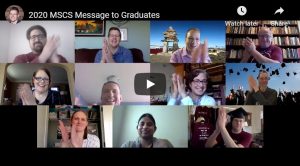 Augsburg alumni, donors and friends,
Augsburg's communications team would like to encourage you to record and share a video congratulating the Class of 2020 for finishing the academic year strong and to celebrate their accomplishments. Please use the hashtag #GoAuggies and tag Augsburg so we share these via Augsburg's social media channels and feature them on Inside Augsburg as we approach commencement day. Commencement is Friday, May 29, so be sure to share your video before then!
You can create a group video with friends like this example from the chemistry department or an individual videos like this one from one of our regents.
Augsburg tags:
Facebook – Augsburg University
Twitter – @AugsburgU
Instagram – @AugsburgUniversity
#GoAuggies