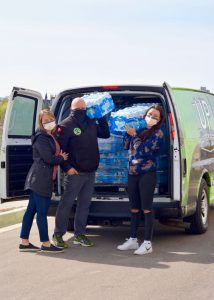 During class the last week of April, Auggie Bethany Johnson, a current DNP-FNP student, wondered how she could help her local community during the COVID-19 pandemic. She wanted to volunteer her time at Augsburg Central Health Commons, a common practice for Augsburg nursing students. However, due to safety precautions, students cannot be on-site right now. Bethany asked Katie Clark, her professor and Director of Augsburg Central Health Commons, how the community is doing.
"Katie said they need water. I thought that seems so elementary," says Bethany. "But everything is closed, none of the regular bathrooms or shops where a marginalized person can fill up water are open. My husband's coffee shop has slow business right now so I called him and asked how much water he had."
Bethany's husband, David, owns UP Coffee Roaster and told her he'd order a pallet of water.
One week later, Bethany loaded up her daughter, her husband, and 1800 bottles of water in the UP Coffee Roaster's delivery van and headed to the Health Commons.
"I think everyone in the community is shocked to hear people need water because we don't think of things like this. It's a basic, basic need," says Bethany.
The COVID-19 outbreak has affected everyone, but it has particularly affected the marginalized communities in the Twin Cities.
"Encampments are being torn down and individuals coming to the Health Commons are saying they have no water," says Dr. Joyce Miller, Chair of Augsburg's Nursing Department.
Bethany finished her Bachelor of Science in Nursing at Augsburg in 2019 and is now part of the Doctor in Nursing Practice program.
"Their mission is what brought me to Augsburg," says Bethany. "To reach out and be so inclusive in their neighborhood and the greater community. Augsburg felt like my people. Felt like home."
It's no surprise to her professors, then, that Bethany jumped at the chance to help.
"Bethany's generous donation to the Augsburg Central Health Commons was truly moving. Not only is Bethany working on the frontlines, but she is caring for those who are marginalized. Healthcare for the Homeless, St. Stephens Outreach, and AICDC also took portions of our water donation to distribute to the unsheltered population," says Katie Clark.
"I have two kids in college, plus I'm in college, and Augsburg is the only one not closing everyone out. Not everyone has a safe home to go home to, so Augsburg is staying open to take care of people. It blows me away, I love it," says Bethany. "They walk the walk and talk the talk."
While she waits for approval to volunteer at the Health Commons, Bethany and her family are already planning to donate more water. They have also generously offered to help others donate water to the Health Commons.
If you would like to donate, please contact Bethany directly at johns173@augsburg.edu.
Augsburg's Health Commons
The Augsburg Central Health Commons is a nursing-led drop-in center that is dedicated to building relationships based on mutual benefit and understanding with those who utilize our space. Nursing faculty members and students from Augsburg University lead, organize, and participate at the Augsburg Central Health Commons in hopes to create changes in our healthcare system to honor the wisdom of all people as they seek to reduce bias, increase compassionate based care, and discover what it means to be a citizen nurse.
The Augsburg Central Health Commons was founded in 1992 (previously called the Nursing Center). It has provided an opportunity for faculty and students from the Nursing Department at Augsburg to become involved in independent practice. Through the years, Augsburg nurses have met community members who have welcomed their service. In the relationships that have developed, nurses continue to experience the mutuality of health–when someone grows stronger, that strength helps everyone in the community.