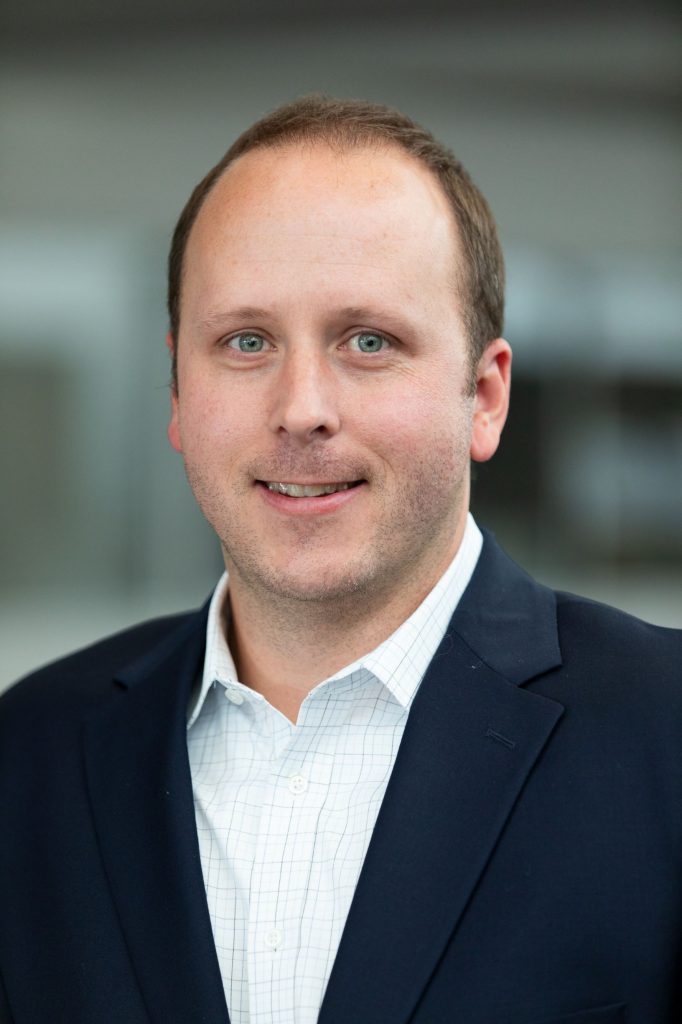 Anthony Howard '18 didn't take the traditional route through higher education. He graduated from high school early and immediately went into the business world as a full time employee at Ponsse in Wisconsin, a forest machinery company headquartered in Vierema, Finland. While on a business trip in Finland, Anthony asked if there were any openings to work in Finland. He was looking for an opportunity to learn more, as well as get outside of his comfort zone.
One month later, he moved to Finland.
Anthony was there for two years, working predominately with international business relations.
"I was alone, young, and didn't have much support in Finland. So I was forced to grow up, be a self-starter," says Anthony.
At the end of 2009, he was ready for a new challenge, so he moved back to the United States and after a winter off, he took a job in Michigan with Roland Machinery Company. It was a good job, but he realized that while he'd been successful so far, he needed a higher education.
"I knew I wouldn't have the ability to keep moving and doing things as I had been up to this point."
He moved to Minnesota and signed up for an information session at Normandale Community College to learn more about their AA Business program.
"I ended up enrolling for school that night. I wasn't a big school person so I picked classes that I knew I'd like to keep me interested. And after two years, I got a bug to go after my Bachelor's degree."
That's when he found Augsburg. Anthony discovered his credits from Normandale would transfer well to Augsburg. He also fell in love with the campus and Adult Undergraduate program availability. He needed weekend and evening classes, but still wanted the in-person teaching. Augsburg's Adult Undergraduate program fit all his needs.
Anthony enjoyed his accounting classes, and took any class he could with Professor Marc McIntosh. However, his favorite classes were the electives, such as book making and theater.
"The liberal arts education at Augsburg helps craft character."
Anthony's ethics class used references that he uses today in his workplace. He took two years of Spanish; he doesn't remember the Spanish now, but he does remember being outside his comfort zone trying to learn another language. And he believes theater helped him learn about preparation, a lesson that circled back a few years later while he was studying leadership as part of the master's program at the University of Minnesota's Carlson School of Business.
"My professor reiterated the importance of a theater exercise: take a note. In theater, students take a note from the director about evaluating their performance. In the business world, you can take a note from leadership that helps elevate your work performance."
After graduating from Augsburg in 2018, Anthony and his wife had a small group of friends get together for the 4th of July. One of his friends is a career coach and asked what he was going to do next.
"She got my wheels turning, so I looked into specialty Masters programs. I didn't want a general MBA, I wanted something very specific. I found a supply chain program which brought all my career pieces together. I deferred one year for our second baby. Then I completed my Masters in the summer of 2020."
Now Anthony is 90 days into his job as COO at Escali, a Minnesota company which manufactures measuring equipment for home and professional settings.
"Joining a new company in midst of COVID is interesting. There are limited people, limited interactions, and it makes for a weird transfer into a new role."
When asked what advice he has for students, he says when searching for a job, do the resume steps and have an elevator pitch. He also recommends reading The 20-Minute Networking Meeting because it teaches you how to come across as professional in any situation.
He also believes in networking.
"You'll meet some awesome people, and they may or may not directly help you with a future job. If you do a good job staying in touch, they might be a good resource to have down the road. Get outside your comfort zone, talk to people. I networked my butt off to gain experiences. I had a lot of coffee with a lot of people just to ask questions and really learn about their work. After those meetings, I really reviewed and appreciated what I learned; that's the goal. Today, I'm comfortable applying COVID rules to a new company with new people because of all the work I've done before that took me outside of my comfort zone. It's not scary now."