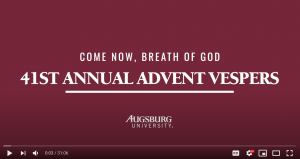 For more than four decades, Augsburg University has ushered in the Advent and Christmas seasons with Advent Vespers, a magnificent experience of music and liturgy, focusing on the theme of preparation and culminating in the joyful celebration of the Incarnation.
This year has changed how we celebrate Advent Vespers, but in November the Augsburg community found a way to safely create a a video that premiered on December 4 as the first Virtual Augsburg University Advent Vespers. The service was watched by more than 8,600 people.
These services (virtual or in-person) continue to be completely funded by generous individual contributions and your donation today will directly support this majestic tradition!