Thursday, February 25, 2021
7:00 to 9:00 p.m.
Free of charge 
To register: Event has passed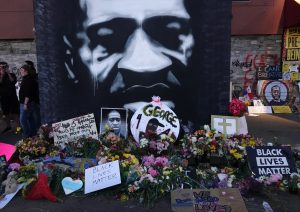 Join AWE, a council of alumnae, and other valued Augsburg and community partners for a virtual viewing of "A Breath for George", a Twin Cities film honoring the life and death of George Floyd. A panel discussion will immediately follow the film screening. 
This online event will bring together Augsburg alumni, students, faculty, staff and the larger Twin Cities community to reflect on and remember the life and death of George Floyd, as well as explore the larger issues of police brutality, systemic racism, and anti-Black racism which continue to impact the Augsburg community, Minnesota, the nation, and the world. The film uplifts the voices of Minnesotan artists, scholars, and community members who have been historically and negatively impacted by these injustices, through a collection of interviews, music, and poetry. The film also acts as a form of resistance against the systematic oppression of Black, Indigenous, and other people of color. 
This past summer, "A Breath for George" premiered outdoors throughout the Twin Cities at venues such as the History Theater, the Guthrie, and Penumbra Theatre. This revised version runs approximately 75 minutes and is composed of three short features. The film is available only for viewing during this event. It will not be recorded. 
Post viewing, there will be a 30-minute discussion with the following esteemed guests:
Austene Van, the filmmaker and Artistic Director of New Dawn Theatre
Joanne K. Reeck, M.A., Augsburg Vice President for Equity and Inclusion
Dr.  Terrance Kwame-Ross, Augsburg Associate Professor & Chair of Education  
Dr.  Michael Lansing, Augsburg Associate Professor & Chair of History
Please take care when watching this film as there are explicit narratives and imagery put forward by the artists and scholars in their truths. This could be triggering or traumatic for some viewers. Also, this film has not yet been rated, and does have some explicit language. The language and scenes may be too intense for children or minors. Parental Discretion is Advised.

Event co-hosted by: 
Augsburg Theater Arts Department
Augsburg Master of Arts in Leadership
Equity Innovation Center of Excellence/YMCA of the North
Growth & Justice  
OneMN.org