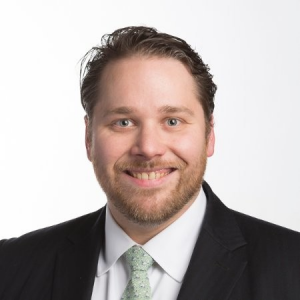 At the beginning of December 2020, Max Marcy was promoted to Global Corporate Treasurer at H.B. Fuller. He started with H.B. Fuller over eleven years ago, initially managing foreign currency and investor relations. His leadership skills were quickly noticed and by 2018, Max was recognized as a top investor relations professional by Wall Street analysis.
From a young age, Max knew he wanted to go to school for finance.
"My goal was always to be an investment banker; I've always been a finance guy. I've always been interested in numbers."
Max is a graduate from 2003. After spending one year at Luther College in Iowa and one year off, he found Augsburg's StepUP program and began in the fall of 2000. StepUP was a relatively new program at the time, but Max fell in love with the program and with Augsburg, particularly the fitness center.
"Being in StepUP wasn't like what it is today, it was a new program. The fitness center was a level playing field where we were all out there trying to do the same thing, trying to stay active. It was a great meeting ground, and I met a lot of people from all over campus," says Max.
Max also had the opportunity to play in Augsburg's Jazz and Concert bands. He enjoyed playing at Sunday gospel praise group and had the chance to travel to Ireland with the Concert Band under Professor Bob Stacke.
After graduating with a bachelor's degree in Finance and a minor in Management Information Systems, Max joined Valspar Corporation. Max had the opportunity to go back to school with Valspar's education benefits and earned his MBA in Corporate Finance at the University of Minnesota's Carlson School of Management in 2008. This degree, along with his experience as a Senior Treasury Analyst, got Max on H.B. Fuller's radar.
"Corporate treasury is the finance you study in undergrad and in business school. Learning how to issue bonds, operating bank accounts, projecting cash flows around the world. That's what I do, that's what I like to do."
Today, Max is the Corporate Treasurer for H.B. Fuller.
"I'm the company piggy bank!"
Max is responsible for oversight of the funds his company generates, which can get very complicated when operating businesses in over 100 countries.
When COVID-19 hit in March of 2020, Max spent most of his time studying a multitude of scenarios to make sure the company could weather the pandemic. Now, his focus has shifted to looking more at how to work remotely while bringing back some of the engagement lost in a virtual landscape.
"I'm not your typical finance person. I'm very analytical, but I don't sit behind a desk all day. I like talking to people and socializing, and that's more difficult when you can't run down the hallway to talk to them. People now are scheduling all sorts of calls all the time, booking calendars up, so instead of the two-minute hallway conversation we are having long meetings. How do we fix that? We need to figure out how we connect more efficiently through all this remote working."
When looking back at his time at Augsburg, Max believes the best thing he did and the best thing students can do today is to take in the full experience of class.
"The easiest thing you can do is go to class, learn what you're paying to learn. I wasn't always the best at spending time with homework and studying, but my butt was always in the chair. Get in your chair or on your computer and just listen."
Max also credits talking to others and asking questions for helping him get to where he is today.
"Reach out, ask questions. Ask what people do in their job. Figure out what it means to be a business analyst, what it means to be an IT professional, what it means to be a Treasurer, so that you have a little more direction."
Max had a clear direction of where he wanted to go – finance – so he put himself in career opportunities to learn. He wanted to understand what jobs actually entailed before he just took a position.
"It'll give you a leg up to know more. You'll have more of a work/life balance, and more job satisfaction. Take the opportunities, and that will go a long way versus being frustrated with what you're doing and always waiting for a payday."