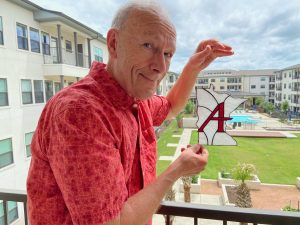 Rodger Ericson graduated from Augsburg in 1966. He initially chose Augsburg for a simple reason: his brother was an Auggie. But in a short amount of time, Rodger found his calling.
Originally hoping to pursue a career in mathematics, Rodger was recruited his freshman year at Augsburg to participate in a summer residency in New Jersey which was geared towards students attending Lutheran colleges. That experience helped Rodger realize his strength was not in math but in being a pastor. He switched to a Religion major with a minor in Philosophy. Rodger joined the student government and spearheaded Augsburg's Spiritual Life Commission as a Senior before continuing on to seminary school.
"I cherish my experience at Augsburg. I'm grateful for the education I got and the way in which it molded me. Augsburg truly turned my life around."
Stained Glass Art
The art of stained glass making came into Rodger and his wife, Margaret's, lives quite accidentally. "I was in the parish for 10 years, and ended up going into the Air Force," says Rodger. It was during his assignment in Florida when he had his first encounter with making stained glass. "We found a house on the corner, that when you drove straight towards it, you could see right into the master bathroom!" After being told by the builders that they couldn't install frosted windows, Rodger discovered some stained glass classes being held at a local shop and asked if that was a possibility. To his delight, it was, and he and Marge took a handful of classes where they made a 5' X 6' window for their bathroom.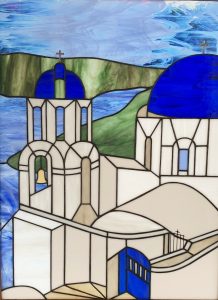 Since that first window, Rodger and Margaret have continued making stained glass art. For each house they've lived in, they create an original piece to go in one of the windows. One of Rodger's favorite pieces is of Santorini, Greece. "It was a lot of work trying to get the angles and coloration right." What makes stained glass art so intricate is having to buy specific sheets of glass that come in the color you want and fitting all the pieces together. Rodger often gets asked if he simply paints the glass he buys, but it's actually quite methodical to connect all the pieces. 
Augsburg Art
Rodger and Margaret consider themselves fortunate to live a comfortable life. Remembering what he learned at Augsburg about supporting your neighbors, the couple donates their works of art to help raise funds for different organizations. They are a long-time supporter of Jaltepec Educativo, a Mexican school that empowers low income high school age girls who have great potential with scholarships to obtain skills and confidence. "Over the past year we raised about $5,000 that all goes to them." 
So when Augsburg's Vice President for Advancement, Heather Riddle, reached out to Rodger about joining the Auggie Connections Facebook page, Rodger wondered how he could connect his glass making to support the university. 
He had made a stained glass Minnesota outline with the Augsburg 'A' for an old classmate and liked how the piece turned out. He decided to make another piece and donate it to Augsburg, with explicit instructions that the piece be used to raise money for Augsburg's Sesquicentennial Fund Scholarship.
"It's a win-win-win. I win because I get to make something. [An Augsburg student] wins because they get something, the scholarship. And someone else wins the artwork in the raffle."
Rodger hopes that his stained glass donation will encourage people to participate in the raffle, and continue donating into the future.
A Raffle for the Augsburg Sesquicentennial Scholarship Fund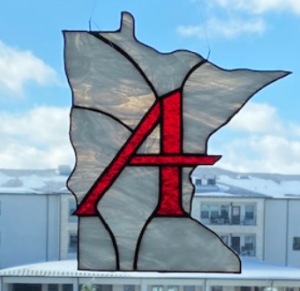 The Auggie Community has the chance to win this hand-crafted stained glass piece to show off your Auggie pride! And two runner-ups will have a chance to win a stained glass hummingbird, also hand-crafted by Rodger. 
Tickets:
1 ticket $5
3 tickets $10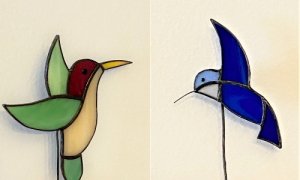 6 tickets $20
Drawing will be held on August 31, 2021.
To enter, mail in a check or cash to:
Augsburg University
Attn: Institutional Advancement
2211 Riverside Ave
Minneapolis, MN 55454.
Players must be at least 18 years old. Mail a check or cash with this slip; credit cards cannot be used for this raffle.