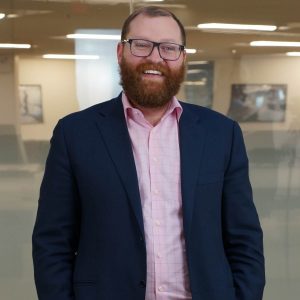 Karim El-Hibri '06 will be one of the newest members of Augsburg's Board of Regents. He is the President of East West Resources Corporation, a small investment firm, as well as a trustee for the El-Hibri Foundation, a philanthropic organization that empowers Muslim leaders and their allies to build inclusive communities.
Karim is also a graduate of Augsburg's StepUP program.
Karim's path to a higher education was not clear-cut from the beginning. After a year at American University, he was forced to drop out due to failing grades. Knowing he needed to enroll in a treatment program, Karim sat down with his parents and discussed his options. They discovered the Wilderness Treatment Center, a place Karim found to be a very positive experience. After successfully completing that program, Karim was encouraged to go to a halfway house in Minneapolis called Progress Valley.
"I had no idea where Minneapolis even was, but I was learning that I needed to follow my higher power's goal, so I went to Progress Valley for three months. They recommended I move on to Sober Living and I believe God speaks through the people around us, so I followed that recommendation. Sober Living is where I heard about Augsburg's StepUP program," says Karim.
Karim met Dave Hadden, former assistant director of StepUP, and Patrice Salmeri, former StepUP Director, both whom he credits as instrumental to his recovery. He says Patrice helped him become the student he wanted to be, but more importantly the person he wanted to be.
"Because I had failed engaging in school before, there was this drive to return to academia and thrive. I wanted an opportunity to prove that I deserved this second chance," says Karim. "I was blown away by StepUP and having a community of peers who were sharing similar challenges, providing this counter-culture to the typical college partying experience. That network provided structure, and we didn't want to let the community down."
Karim took a variety of classes in his two years at Augsburg, including two that left lasting impressions.
"There was the Medieval Studies class with Phil Adamo, where we dressed up in medieval attire and walked around campus. And my biology class with Bill Capman experiencing the saltwater tanks with live coral and clownfish laying eggs, I've never seen anything quite as impressive."
He was also a student fundraiser for the Oren Gateway Building. Karim spent a lot of time making sure that the building's fundraising campaign was a success, knowing Augsburg would be able to house StepUP students in a safe and sober living space.
Karim graduated from the StepUP program in 2005 and in 2006 he transferred back to American University's School of International Service to graduate with a degree in International Studies. Despite not graduating from Augsburg, Karim continued to stay engaged with the university.
"Augsburg's culture and values align with our family's values and has been a major motivator to stay engaged."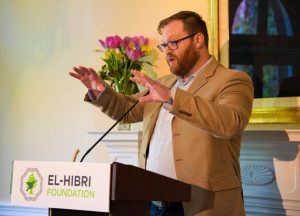 In 2012, Karim brought his mentor, Professor Abdul Aziz Said, to the 24th annual Nobel Peace Prize Forum. Professor Said was a professor at American University, teaching the value of peace and ecological balance, dignity, political pluralism, and cultural diversity.
"Augsburg is such a beautiful example of what a collegiate community can be. Augsburg has a culture of peace, which makes sense why the Nobel Peace Prize Forum was hosted on campus. Professor Said told me, 'Why not expand Augsburg's curriculum to teach peace?' which has been a personal passion of mine ever since."
Karim served on StepUP's Advisory Board for a few years and is excited to begin his work on Augsburg's Board of Regents this fall. He believes his work with East West Resources and the El-Hibri Foundation have prepared him for this new role.
"I'm fortunate because I get to work with my family; my father is the chairman, my mother and sister are on the Board of Trustees of the El-Hibri Foundation. And at East West Resources I love that I get to focus on so many different opportunities, and we get to bring our values into every business in which we engage. I am proud to say that East West Resources only focuses on businesses that have a humanitarian dimension – enhancing people's lives in one way or another."
Karim is grateful to Board Chair Matt Entenza and President Paul Pribbenow for the opportunity to become a Regent on Augsburg's Board and deeply appreciates their confidence.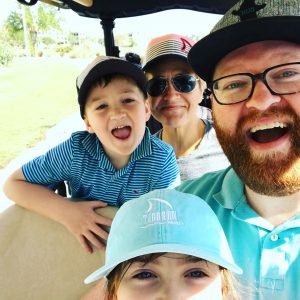 "I am deeply honored to participate in any way at Augsburg. I didn't graduate from Augsburg, but the two years I was a student had such a profound impact on me," says Karim. "StepUP saved my life. It is more than just an education; Augsburg really had an impact on who I am today."