Augsburg Associates Report Having "Too Much Fun" While Raising Significant Support for Scholarships
Sometimes a treasured possession gets hidden away and forgotten. Sometimes we don't even realize how special that treasure is and what finding it might do to help others. With a goal to raise funds for Augsburg College, the Augsburg Associates conduct estate sales. One family, whose belongings were being sold, told the Associates to include in the sale a bag stored for years in the family's garage. Peeking in at the top, nothing looked valuable—just wrinkly, outdated baby clothing.
An Augsburg Associate took the bag home to launder the contents and discovered a beautiful baptismal gown. She carefully ironed it and showed it later to the daughter in the family, who exclaimed: "I recognize that gown from pictures. It is my baptismal gown. This means so much to me. I would love to purchase it and keep it." She was delighted, and the Associate was delighted to have preserved a treasure for the family.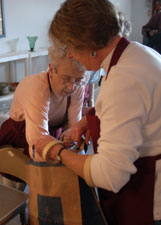 Associates Take Pride in the Service They Provide to the College and Community
Augsburg Associates, 90 members strong, serve the college and the people they assist by hosting estate sales. According to Lennore Bevis '66, president of the Associates: "We serve the larger community by being very respectful of the people for whom we conduct sales—of their homes, and of their belongings, and by conducting sales in a positive, friendly, caring way."
For their efforts in organizing, cleaning, pricing, and selling the household items, the Associates receive one third of the sale proceeds. With three to six sales per year, they generate a lot of good will and resources.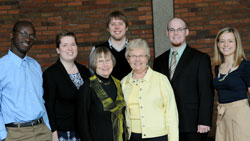 Working Together for Higher Education, Velkommen Jul Brunch Adds to Fundraising Totals
Additional fundraising occurs through Associate membership fees, hosting the Velkommen Jul brunch and a Scandinavian boutique the first weekend in Advent, and hosting a spring tea.
The Associates raise funds to provide scholarships to Augsburg students. Liz Horton, a longtime Associate whose son Christopher graduated from Augsburg in 1981, says: "We feel we are doing something important to help. When we see students on campus, we know how important it is to help them get an education."
In 1996, The Associates set up an endowed scholarship fund. Earnings from the endowment provide a scholarship each year, and additional dollars raised throughout the year sponsor the Christensen Scholars.
The Associates also Gave $50,000 to the Center for Science, Business and Religion.
Giving Back in Meaningful Ways, Individually and Collectively
"The whole attitude in our organization" Bevis explains, "is members giving of themselves and serving the community. We like to share what has been given to us. We give back in meaningful ways by working together. The generosity of our group sometimes leads individual members to make their own personal gifts to the college."
Kathleen Gabrielsen '79, a longtime Associate, recently established an endowed scholarship fund in memory of her husband, Dr. Stephen "Gabe" Gabrielsen '63, now deceased, who taught music at Augsburg throughout his entire career. She said: "Gabe gave everything of himself to Augsburg College, including teaching extra classes without pay when he was young. Later I graduated from the college, and both of our children are Auggies: Elizabeth '89 and Joseph '91. We are an Augsburg family. Being an Associate is a way to continue with the Augsburg community, enjoying friendships and supporting the college."
Bevis says that Associates are graduates and also friends of the College who are family members of graduates, faculty, or staff, or who are simply impressed by the spirit of giving and want to be a part of it. She says: "Before my husband Roger '63 became ill and died, he enjoyed helping with Associates volunteer projects. Men can be members or affiliated members." She said they decided to volunteer together as a couple because "we wanted to give both our time and our money to Augsburg College. What appealed to us about the Associates was the service aspect."
"The People are my Favorite Thing"
Barbara "Bunny" Larson '63, an Associate for almost a decade, says: "The people are my favorite thing. I like my fellow volunteers. We have so much fun together. I have never been around a group that is so supportive. And I hope that the Associates will attract newer members and continue in the next generation."
Liz Horton adds: "What we do is have way too much fun. It's fun to be with people who want to make a difference."