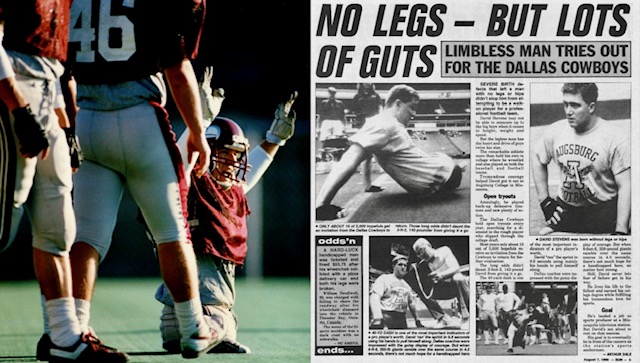 You may know Dave Stevens '90 from his time playing minor league baseball for the Saint Paul Saints or when he tried out for the Dallas Cowboys, or maybe you know Stevens from his seven National Sports Emmys, which he won while reporting with ESPN for over 20 years.
And there's still an abundance of Stevens's accolades that could be mentioned but few people know it started with his time as a football player at Augsburg. He was and still is the only congenital amputee to ever play NCAA football. Stevens was offered a scholarship to Augsburg after his story aired on ABC's That's Incredible! in 1981.
"I had a job opportunity at KSTP and a scholarship that Julian Foss provided for me to attend Augsburg, and I wanted to work in television," Stevens said. "Covering sports at 19-years-old and in a market like Minnesota when the Metrodome had just been built was a big deal."

But not long into his first year at Augsburg, Stevens got homesick. That, and the passing of a parent contributed to him moving back to his hometown in Arizona where he got a job and soon realized that his life wasn't going in the direction he wanted. 
Luckily for Stevens he was given a second chance and a one-way ticket back to Minnesota when he asked his former benefactor if he could retain his scholarship and return to Augsburg, and in 1987, he was back to finish what he had started.
Stevens recalled long days in the classroom, on the field, and at work, getting off late evenings to meet up with friends for some affordable food and entertainment at the Cabooze before heading home to catch some sleep and doing it all again the next day.
"It was so awesome that this little Division III school gave me such a huge opportunity to play football and live my dream," he said. "And to top it all off I had so many amazing professors, mentors, and resources that really helped me develop as a person and not just as a person with a disability."
After his time at Augsburg, Stevens would go on to transition more into his career in television. He has covered NCAA Final Fours, World Series, and Super Bowls. Currently Stevens is an adjunct professor at the School of Communications at Quinnipiac University in Hamden, Connecticut, a motivational speaker, and works with a number of charitable foundations. One word that Stevens said is not in his vocabulary is "can't".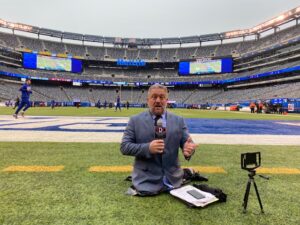 He hopes to one day be inducted to the College Football Hall of Fame for his time at Augsburg and his contributions to the sport. Stevens said he appreciates the opportunity that Augsburg gave him and continues to give to all of its students.
"Augsburg is this amazing melting pot, and it helps you in the real world to realize there are other people out there who have different ideas, beliefs, and capabilities," Stevens said. "It's a school that I don't think gets enough love for the reputation that it continues to maintain."