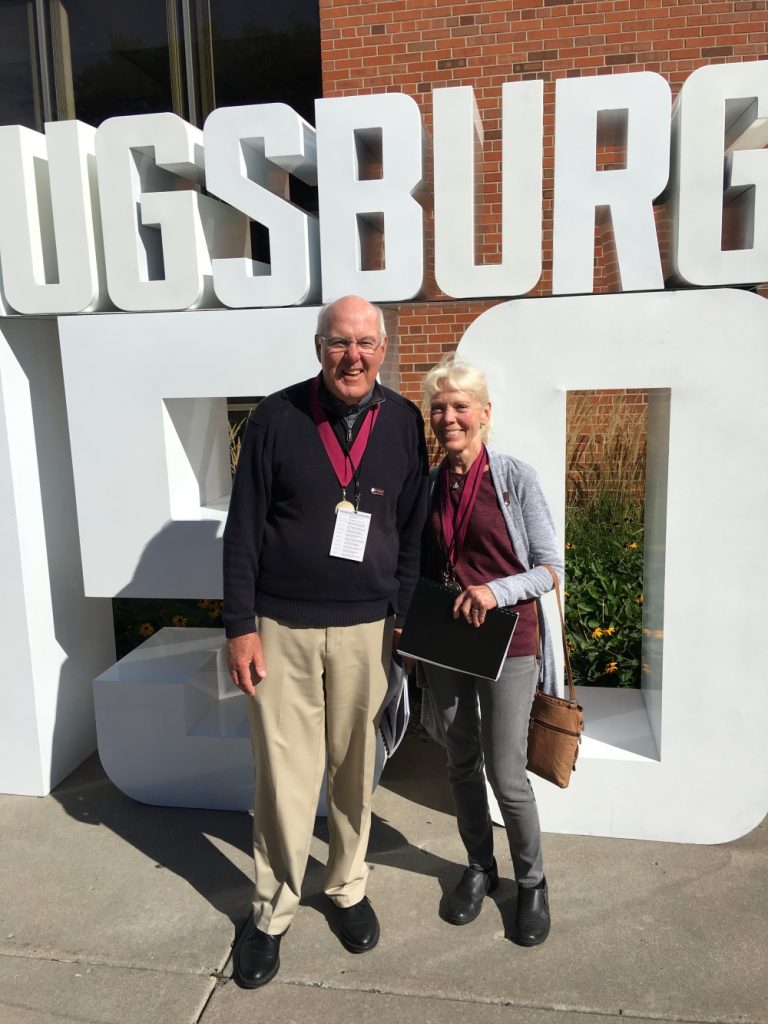 Augsburg University holds a special place in the Carlson's hearts. Wayne '69 and Pam (Bjorklund) '69 Carlson met on campus over 50 years ago, and two of their children attended Augsburg. So when they were approached about helping organize their 50th reunion, Wayne and Pam welcomed the opportunity.
"The most interesting thing about being on the committee was reconnecting with some people we haven't seen since graduation," says Wayne. "But also meeting new people who were at Augsburg at the same time as us but we didn't know."
Both enjoyed reconnecting with classmates and learning about what was new – and what was still the same – on campus.
"One thing I liked when I was at Augsburg and has expanded now is how Augsburg reaches out to the community, and how over the years they've been able to include students of color, students of all economic ranges, and the fact that they accommodate students with special needs. It's only expanded more and more over the years," says Pam.
The Carlson's also had the opportunity to attend Augsburg's Sesquicentennial Gala the night before their 50th reunion and homecoming celebration. They enjoyed seeing people from other graduating classes, and enjoyed finding new Auggie connections.
"It was telling that you get to an event like that and there's a small number of people you connect with, that you know really well. Ninety-five percent were strangers, but you all have a common goal or common interest in Augsburg," says Wayne.
Both Pam and Wayne have fond memories of their time on campus. And while much of Augsburg is the same, they also witnessed big changes over the years.
"It was the same Augsburg in a lot of ways, but with improvements to the buildings. Some of the housing has changed dramatically! I lived in one of the old houses my senior year, but that one is gone now," says Pam.
"Something that's different, listening to our daughters talk about their experience as students, is the close relationships with the teachers. Our daughters both received presidential scholarships and they had these special discussion groups. It was neat to hear but I never got into that kind of thing as a student. It's so different to hear our daughters were friends with their professors. Back then you looked up to the professors but you didn't get to be friends with them," says Wayne.
When Wayne applied to Augsburg, he knew he wanted to go to medical school and play sports. In the 60's, it was a bit of a challenge because he felt like he was the only football player taking chemistry and physics classes.
"I felt like I was an outsider, but I wanted to be part of both programs and it worked out. Back in my day no one helped work out schedules with practice and labs. There was no pre-med club but I felt well prepared for medical school with the quality of the science courses and the broad range of courses I had in the humanities.  I was thrilled to be accepted to medical school and had a 43 year very satisfying career in family medicine."
Wayne was happy to hear that today, Augsburg does a lot to help balance academics, lab time, and practice time with the student athletes.
As an Elementary Education major, Pam had more communication with her professors. She felt they were always creative and helpful. When she returned to Augsburg in the 80's to expand her education degree to include Early Childhood Education, she was pregnant. At the end of the semester, the class threw a baby shower for her.
"That doesn't usually happen in your college classes! It's that personal touch that was nice," Pam says.
That personal connection, along with Augsburg's mission of service to the community, is what keeps Pam and Wayne connected to their alma mater. Both of their daughters who attended Augsburg ended up in service-type careers.
"Those seeds of service to the community are planted with your family and highlighted when you're at a school that emphasizes that," says Pam. "50 years ago they had us going out to the neighborhood schools for observation and to help out a bit, so Augsburg's service started a long long time ago."
In recognition of Augsburg's service to the community, and gratitude for the education they and their daughters received at Augsburg, Pam and Wayne Carlson feel fortunate to be able to give to Augsburg now and they have included Augsburg in their will for future giving.