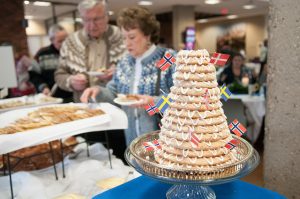 As we near the holiday season, Co-Chair of the Augsburg Associates Jessica Wahto has a special message to share about an Augsburg favorite tradition:
Remember the days of walking into grandma's kitchen at the holidays, and the smell of cardamom and sugar wafting through the air. Recall that trip you took to Norway and Sweden. The beauty of the Fjords, the colorful knit sweaters and the delicate embroidery on their bunad's. Think of your exchange student who visited from Denmark and all the laughs you shared. Enjoy these memories and make new ones at Velkommen Jul!
Please join us and kick off your holiday season at Velkommen Jul on Friday, Nov. 30! Augsburg University's annual Christmas celebration is open to all. Attend chapel and worship featuring Scandinavian Christmas music at 10:40 a.m. in the Hoversten Chapel. Then head to the Christensen Center at 11 a.m. Here you will find our Velkommen Jul boutique, offering unique Nordic gifts and treats.
After you have claimed your treasured gifts, join us for a festive celebration in Augsburg's commons with music and traditional costumes and sweaters! Reminisce with friends and make new introductions while enjoying a smorgasbord of Scandinavian treats. Don't worry; there will be plenty of coffee as well! You can add to the celebration by wearing your Norwegian sweater or Bunad! Velkommen means Welcome, and here at Augsburg you always are! We hope to see you there!
*All proceeds from the boutique as well as donations gathered at the smorgasbord go to help fund student scholarships.