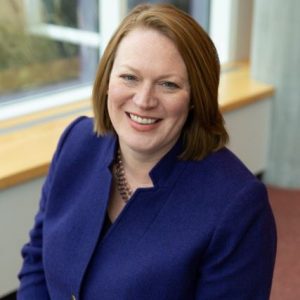 Augsburg University is pleased to announce the appointment of Amy Alkire as vice president of Institutional Advancement, effective September 8.
Amy will lead the university into the public phase of Augsburg's Great Returns Campaign, our largest campaign in history, as well as continue to grow our culture of philanthropy and engage our alumni, friends, faculty, and staff.
Amy started at Augsburg eight years ago as a gift officer and director of leadership gifts. In 2015, she was promoted to assistant vice president, a role she held until this past August when President Pribbenow asked her to move into the interim vice president role after Heather Riddle's departure.
"The opportunity to promote Amy to serve as Augsburg's vice president for institutional advancement was very meaningful to me," says President Paul Pribbenow. "She has been a part of the advancement staff for several years and has illustrated through her outstanding work a passion for Augsburg's mission and strong professional skills. I look forward to working with Amy and her colleagues as we continue to strengthen Augsburg's philanthropic culture."
When asked about her new role, Amy says she is excited for the challenge of it. She loves working with Augsburg's alumni, donors, faculty, and staff and is passionate about Augsburg's mission.
"Amy has provided amazing leadership working with our board and the Augsburg community over the years," says Matt Entenza, Augsburg University's Board of Regents chair. "I'm very excited to get to work with her because she embodies what it means to be an Auggie!"
Prior to her work at Augsburg, Amy was a development officer for two years at Children's Hospital Minnesota and a major gift officer at Concordia University—St. Paul for three years. Amy was also a teacher for eight years, teaching English and literature, before she moved into a career in development.
"I'm laser focused on the strategies that will engage the Augsburg community and foster philanthropy to solidify Augsburg's long-term financial stability," says Amy. "We have a strong team and I am eager to continue to build upon their strengths. I am grateful to Kristen and Sarah for their partnership in leading Advancement efforts and look forward to great successes in the future." 
Along with Amy's promotion to vice president, Institutional Advancement has two other promotions. Sarah Erkkinen, assistant vice president for special projects, will be promoted to associate vice president, Institutional Advancement leading principal and major gifts and the campaign. Kristen Cooper, senior director of advancement, will be promoted to assistant vice president, Institutional Advancement Operations and Alumni/ae Engagement.
Outside of work, Amy serves on the Lake City Education Board of Directors and is a member of the City Council for Lake City.
Amy currently lives in Lake City, her hometown, with her husband, their two kids, and their three dogs.