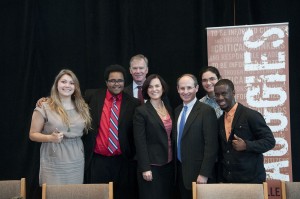 Minnesota Urban Debate League (MNUDL), a program of Augsburg College, is charged with the mission to empower students through competitive academic debate to become engaged learners, critical thinkers, and active citizens who are effective advocates for themselves and their communities.
Under the leadership of Executive Director, Amy Cram Helwich, and with the support of faculty advisor, Robert Groven, MNUDL currently serves more than 750 students at 39 partner schools and has seen sustained growth in student participation and academic growth since its inception in 2004.
This year, Urban Debate League has expanded their programming to include Spanish and Somali debate. May 27, 2015, Urban Debate league will pilot a Somali Debate Initiative with a Community Forum including Representative Keith Ellison and other community leaders. The topic is facilitating remittances from the United States to Somalia. This legislation affects many of our current Somali students—the debaters will engage in a high-level conversation to determine possible solutions for this community challenge.
Several alumni are also involved in the Mayor's Challenge: The Great Water Debate, Wednesday, May 13, 2015. Registration is at 7:30 a.m., and the program begins at 8 a.m. This year's national high school policy debate topic is "Resolved: The United States federal government should substantially increase its non-military exploration and/or development of the earth's oceans." Students at the breakfast will present an informative debate specific to Minnesota lakes and rivers.
Alumni are invited to attend! If you are interested, please sign up here to attend the May 13 fundraising event for Urban Debate League.
The Urban Debate League currently has sites at 39 schools serves 700 students.
100% of debaters graduate on time and 99% have been accepted to college.
In the Twin Cities, debaters are 40% more likely to graduate than non-debaters.
To learn more visit the: Minnesota Urban Debate League home page.