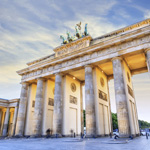 Augsburg alumni, parents, and friends of the College are all welcomed to be a part of the Uniquely Augsburg Travel programs in 2016 and beyond, including a celebration of Lutheran heritage in Germany and Prague that coincides with the 500th anniversary of the Reformation. Curious to learn more? A special information session will answer all your questions. Join Sally Daniels Herron '79 and religion professors Mark Tranvik and Hans Wiersma on Sunday, October 11, at 2 p.m. in Oren Gateway Center (OGC) 100. This is your chance to get on board for this historic trip happening October 27-November 6, 2016. Find cost information, registration details, and a full itinerary here.
In January, 2017, English Professor Kathy Swanson and her husband, Jack, will lead an educational trip through Thailand and Cambodia, visiting Bankok, Chiang Mai, and Siem Riep along the way. Learn more at the information session scheduled for Sunday, November 8, 2015, at 2 p.m. in Oren Gateway Center (OGC) 100. Don't miss these thoughtful and educational tours customized specifically for Augsburg alumni, parents, and friends!
To RSVP for either information session and secure your parking pass, contact Sally Daniels Herron '79 at herron@augsburg.edu.  For more information, visit the Uniquely Augsburg Travel page or contact Sally via email or phone at 612-330-1525.