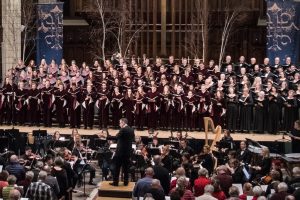 Joining us at Advent Vespers this year?
We are looking for as many as 20 volunteers for each Vespers service to help usher and work at the will-call table. Central Lutheran Church has recently added a beautiful addition to their building and there is a need for extra hands this year to help direct attendees.
Vespers services will be held:
Thursday, November 29 at 8 p.m. (Dress Rehearsal)
Friday, November 30 at 5 & 8 p.m.
Saturday, December 1 at 2 & 5 p.m.
Volunteers should plan to arrive at Central Lutheran Church in downtown Minneapolis (333 S. 12th St.) 60-90 minutes prior to each service. The service lasts approximately 90 minutes.
Please contact Kia Burton (burton@augsburg.edu, 612-330-1329) if you are able to volunteer.
About Augsburg's Advent Vespers:
For more than three decades, Augsburg University has ushered in the Advent and Christmas seasons with Advent Vespers, a magnificent experience of music and liturgy, focusing on the theme of preparation and culminating in the joyful celebration of the Incarnation. Advent Vespers is set in downtown Minneapolis in the majestic sanctuary of Central Lutheran Church, soaring 65 feet high with large stained-glass windows.