For a young man born in a Kenyan refugee camp and immigrating to the U.S. at age 12 through the persistent efforts of his hard-working mother, to now be chosen as one of 31 young Fellows from 25 countries to participate in the 2017 World Innovation Summit for Education (WISE) Learners' Voice Program may seem unlikely. And for Awale ("Wally") Osman '15, it is "surreal." But this opportunity is one of many that have energized him.
And, for him, this year's conference topic is very close to home—Global Forced Migration and Refugee Crisis.
Osman has just returned from the first residential session, held in Athens, Greece, where the Fellows had a chance to study how Greece was handling its own refugee crisis and the challenges that affect a refugee community. The group heard from established experts on the topic, studied where crises were occurring, and proposed possible solutions. They heard from those working "on the ground" and did volunteer work with individuals having to go through the process of seeking asylum. The session in Athens ("an extraordinary experience," says Osman) and a second residential session, to be convened during the summer in Madrid, Spain, will culminate in the WISE conference in Doha in November.
As Osman looks back on the many opportunities he has been granted, he is consistently motivated to give back. He mentions his ESL (English as a Second Language) teachers in the U.S., who played a pivotal role in conquering his first major barrier (and that of most refugees)—language. Those teachers also put him in touch with Boys & Girls Club, where he became involved; Upward Bound, which prepared him for college; and TRiO/Student Support Services, which helped him persist in earning his bachelor's degree. These are part of the Federal TRiO programs funded through the U.S. Department of Education and focusing on providing comprehensive academic support, integrated learning courses, learning communities, academic English enhancement, and leadership development for low- to moderate-income, first-generation college students and students with disabilities.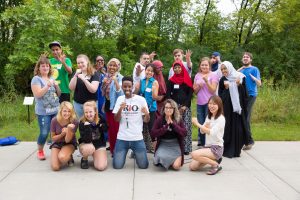 Osman sees these TRiO programs as the "main pillars" that helped him grow personally and professionally. They enabled him to set goals and find connections to resources. They evaluated his progress, held him accountable, and served as a source of emotional support. And they kept him connected, even as he worked to support his family (most of whom now live in the States). Continue reading "The Joy of Circling Back" →