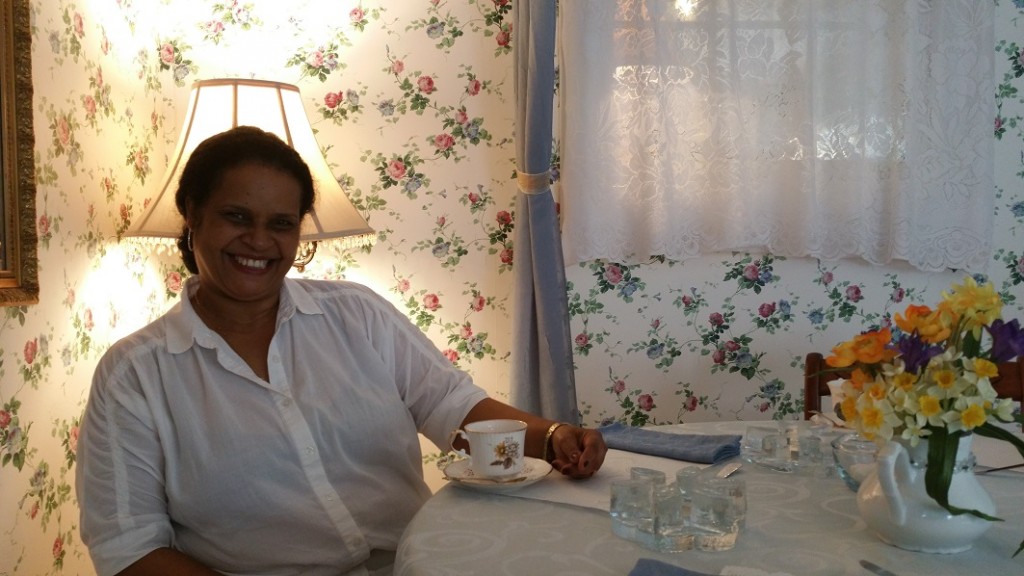 Wubitu Ayana Sima '89, '15 MBA might never have predicted she would end up as the proprietor of a classic British tea room, but she never expected to spend more than a decade in Geneva, Switzerland, working abroad for the United Nations and the World Health Organization either.
At 54, the dual-degreed Auggie has always been a woman who likes a challenge. She's happy when she's busy, and as the owner of Lady Elegant's Tea Shoppe in the leafy St. Anthony Park neighborhood of St. Paul, and a part-time MBA student at Augsburg, the mother of three is already thinking about her next adventure.
Serving Tranquility
Lady Elegant's, which she purchased from the previous owner, is actually two businesses—a tea shop and a tranquil tea room that is perfect for conversation and popular for groups of all sizes by appointment. Ayana Sima does the baking for the formal teas, including croissants and scones with clotted cream. The adjoining tea shop sells more than 80 varieties of tea. Her husband, Admasu Simeso, helps manage the restaurant, from the paperwork to the online shop.
She manages four part-time employees, and everyone works Saturdays, because it is their busiest time.
Each place in the tea room is set with a distinct tea cup. She's collected cups from all over—they come from the United Kingdom, China, and Japan—and washes each one by hand. They break easily, she warns, especially in the transition from a group service in the morning to a group in the afternoon.
"I'm a coffee drinker," she confesses. Growing up in Ethiopia, she would pick coffee out of the backyard at her mother's house and they'd roast it themselves. She learned to enjoy tea while working in Switzerland, and has grown to know the delicate chemistry of time, tea leaves, and temperature of boiling water.
Continue reading "Finding Home All Over the World" →