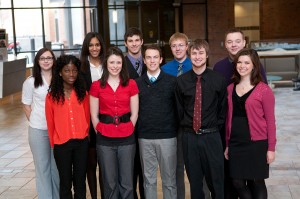 Several endowments fund scholarships for students majoring in biology. Scholarships for the following year are made by the Biology department during each spring semester. With the exception of the AugSTEM scholarship, there is no application for these awards. Selections are made in accordance with the conditions of the endowment donor and based on a combination of academic achievement and demonstration of other qualities associated with highly successful students.
Carl and Kathleen Casperson Scholarship – Awarded annually to science students of any class, based upon academic achievement, interest and ability in the field of study, and a demonstrated sense of social and spiritual community.
Dr. Kenneth and Linda Holmen Scholarship – Awarded annually to one or more upper division students with demonstrated financial need and academic achievement, who are studying for a major or minor in Chemistry or Biology and plan to attend medical school.
Dr. Lowell ad Janice Kleven Scholarship – Awarded annually to a pre-Med student based on financial need.
Dr. Paul and Maxine Fridlund Scholarship – Awarded annually to students majoring in Biology based upon academic achievement and financial need, with a preference for students interested in Plant Pathology.
Eleanor Christensen Edwards Scholarship – Awarded annually to upper-class student(s) preparing for a career in medicine or health.
William J. Henry Scholarship – Awarded annually to one or more full-time students who demonstrate financial need and academic achievement and whose intention is to seek training as a physician.
PRISM Scholarship – The PRISM program is designed to support Augsburg juniors and seniors who wish to pursue a career in Science, Technology, Engineering, and Mathematics. Funded by the National Science Foundation, PRISM Scholars receive scholarships of $5,000, $7,500 and $10,000 per student per year. Differences in award amounts correspond to levels of financial need. Scholars also become a part of the STEM community at Augsburg with opportunities for summer research, faculty mentoring, and career development. Visit https://www.augsburg.edu/stem/prism/ for more details.