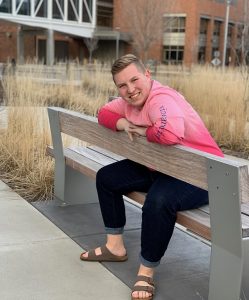 Hello!
My name is Ian Heseltine. I'm a second year at Augsburg University. I am majoring in Music, Media & Management with a minor in Religion. My hometown is Alexandria, MN, two hours west of Minneapolis. In the future I hope to be managing artists or their tours.
My favorite thing about Augsburg is how connected you are to your friends, faculty, staff, and administration. Our average class size is 16, so you really get to build a relationship with professors and in return they become invested in your education.
I'm so excited to be returning this summer to be an AYTI mentor again! Which is such an incredible and indescribable week that I believe all youth should experience! I can't wait to have all of our 2019 AYTI students here at Augsburg to learn more about God, reflect on God, and serve their communities through God.
Learn more about this summer's Augsburg Youth Theology Institute at https://www.augsburg.edu/ayti/