The Christensen Center for Vocation is proud to present the 2022 Augsburg Youth Theology Institute. After two years of virtual programming, we are looking forward to returning to in-person programming on campus at Augsburg University. We will continue to follow recommended guidelines for health and safety and will welcome a new group of high school participants to reside on campus for this year's institute. We are delighted to welcome two Augsburg University professors as co-instructors this year to lead the institute participants in theological exploration through a college classroom experience as well as experiential learning in the community. Participants will be led by college mentors who will engage small group learning and relationship building through daily devotions and experiential learning. Together we will worship together with guest liturgists and musicians from the Twin Cities and explore the neighborhood as we seek to understand how God is calling us to [reconnect] and live in unity.
SAVE THE DATE
Sunday, June 26th – Friday, July 1st, 2022
THEME
God's People [re]connect!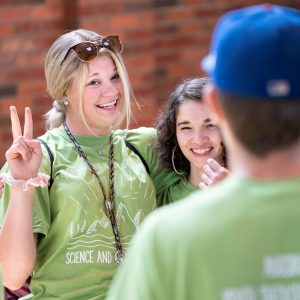 We believe God invites people to live together in unity, a beloved community. As we emerge from two years of change and uncertainty, we invite participants to ask big questions about connection and disconnection.
What surprised you about how you could connect online?
What did you learn about yourself?
What did disconnection teach you?
What do you need in order to feel connected?
What about your virtual connections might you feel grateful for?
What gratitude do you have for the gifts of being able to connect in person?
Where did you see / feel / hear God?
At AYTI, we will ground ourselves in biblical stories of connection and disconnection, stories of theologians throughout time that can teach us about connection, and we build relationships and create stories together in real time. Participants will develop a theological understanding of connection and disconnection and seek ways to share these gifts with the world. Come to AYTI to [re]connect to your energy and power source – God who loves and connects all people.
"How very good and pleasant it is when kindred live together in unity!" ~ Psalm 133:1
Co-Instructors
Participants at the institute have a chance to experience a college classroom and with gratitude we share that two Augsburg University professors will be the co-instructors for the summer 2022 institute.
Matt Maruggi
Matt Maruggi is an Associate Professor in the Department of Religion and Philosophy at Augsburg University in Minneapolis, MN. He teaches and researches in the areas of vocation, spirituality, liberation theology, the ethics of world religions, and interfaith studies and action. Matt is an experiential educator; he promotes student learning outside the classroom through visits to various houses of worship in the Twin Cities, civic engagement in the Cedar Riverside neighborhood of Minneapolis, and study abroad courses in Central America. Matt co-directs the Interfaith Scholar Seminar, a curricular and co-curricular program that promotes interfaith dialogue and community engagement with students from a variety of religious traditions and core commitments.
Chris Stedman
Chris Stedman is a writer, activist, and professor who currently teaches in the Department of Religion and Philosophy at Augsburg University in Minneapolis, MN. He is the creator, writer, and host of Unread, named one of the best podcasts of 2021 by the Guardian, Vulture, HuffPost, Mashable, and the CBC. Additionally, Chris is the author of IRL (2020) and Faitheist (2012) and has written popular essays for outlets including the Atlantic, Pitchfork, BuzzFeed, VICE, and the Washington Post. Previously the founding director of the Yale Humanist Community, he also served as a humanist chaplain at Harvard University and a trainer and content developer for Interfaith Youth Core.