Series Description:
Kristina's Corner is a collection of stories that come out of my own lived experiences as a neighbor in the Longfellow Community of South Minneapolis. They are stories of connection, stories of learning and stories of place. They come out of an effort – sometimes intentional but often accidental – to pay attention to the beauty, the pain and the complexity of our human experience, right here in this little corner of the universe I inhabit. Writing about these stories helps me deepen my roots in this place while also expanding my curiosity about what God is up to here and what that means for how I am called to show up and be a neighbor. In sharing these stories, I hope they invite the reader into a similar curiosity about God's call to you, rooted in your place.
---
Spring Thaw
Written by Kristina Frugé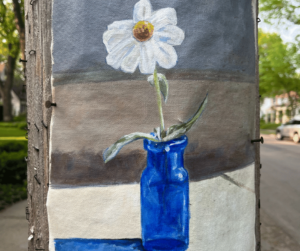 Small moments can matter in big ways. I find this to be good news. Our days are filled with small moments, many of them pass by insignificantly. Sometimes though, we catch on to them. Sometimes, they give us a glimpse into something beyond ourselves – a truth, an idea, a comfort, a wake up call, an invitation…
I want to share a story about two small moments that collided into an important invitation for me. 
Moment One
Just a handful of months ago, spring was fighting its way through a long snowy winter here in South Minneapolis. As a lifelong Minnesotan, I know how to enjoy the winter season. But winter tends to outstay its hype in my opinion. People talk about the detrimental impacts of the lack of sunshine and vitamin D in the wintertime and its effect on people's mental health. But the longevity of the cold encourages a lack of connection with other humans as well. This deficiency is also unhealthy I believe.  We lose some of our social ability in the winter, finding it easier to stay cloistered and quiet. And when we do go out in public, we have permission to stay hidden under layers of warm winter gear. It takes way more energy to make eye contact let alone engage in conversation with a passerby. At least, this is how it goes for me. 
I bundled up on a Saturday morning to pick up some groceries at the store. As I wandered up and down the aisles of produce, pasta and cereal, I was startled by a small child in a shopping cart, parked temporarily near the breakfast foods. His eyes peeked out from under his blue and green striped winter hat and he locked his gaze with mine. He kept focused eye contact with me, craning his head to the side as his dad moved their cart further down the aisle away from my location by the oatmeal. But just before they turned the corner and we fully parted ways, his face broke into a toothy dimpled grin. I gave a little wave as he carted out of view.  Continue reading "Kristina's Corner: Spring Thaw" →