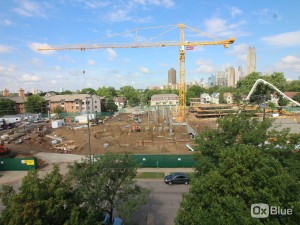 As the ground-level slab and basement walls are nearing completion,construction crews begin work on columns and the first-story ceiling/second-story floor. See the image of the construction site from July, 15, at the right.
CONSTRUCTION SITE WORK
Backfilling basement walls. Now that the basement ceiling is completely poured, it ties the basement walls together, which means that the soil backfilling outside the basement walls can be completed up to ground level. Backfilling of the basement walls and other areas will continue for the next few weeks.
Completion of ground-level slab. The ground-level slab for the portion of the Hagfors Center that does not have a basement will be poured this week. See the Gallery of Drawings page for more information about each of the floorplans.
Formwork for ceilings/floors. There will be some truck traffic to and from the construction site this week as the materials for the ceiling/floor concrete formwork for the second, third, and fourth levels are brought in and the forms for the basement level are taken out.
Truck traffic during concrete pours. The exact dates for concrete pours on the upper storys will depend on weather and other factors. During each concrete pour, there will be no parking on 21st Avenue South between South 7th and South 8th streets. Concrete trucks will be temporarily parked/staged in this area to enable a consistent supply of concrete for each pour. Watch Amail and street signage for parking restrictions.
Columns begin to appear. Construction of columns from the ground floor to level 2 are in progress and are now visible on the construction site.
Utility pole removal along 21st Avenue South. McGough is working to confirm a date with Xcel Energy to remove the utility poles along 21st Avenue South. Removal of the utility poles will also remove the city street lighting attached to them. To offset this, Augsburg will install and maintain security lighting through the duration of the project. Ultimately, the goal is to install permanent lighting, after Hagfors Center is complete, as the College has done along South 8th Street.
UTILITY WORK WEST OF OREN GATEWAY CENTER
Utility work on the west side of Oren Gateway Center is still in progress, as Xcel Energy works to reroute electrical service for the Hagfors Center. City of Minneapolis sidewalk closures and parking restrictions may continue on 21st Avenue South during this time.
As with any major construction project, work activities may be affected by weather, crew availability, project sequencing, and other factors. As a result, the timing of planned work activities may change from day to day. Please see updates sent via Amail for planned activities.