Last week, members of the Augsburg Day Student Government joined McGough Construction and President Paul Pribbenow on the first student tour of the Hagfors Center site. See the photos below of them riding up in the skip-hoist elevator and checking out one of the upper levels of the building.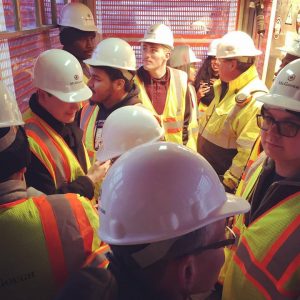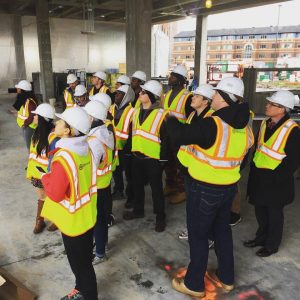 CONSTRUCTION SITE WORK
The final concrete floor pour within the building was complete last week. Exterior concrete pours — for stair stoops and sidewalks — will begin next spring or summer. Construction work this week includes the following activities:
Window frames – a shot of color. Window frames will continue to be installed this week on the east side of the building — introducing the accent colors on the exterior of the building. The window frames will match the colors of the mullion extensions that will be added to the exterior windows in the future, a feature that adds vibrant color to the Hagsfor Center exterior.
Roof work. Sections of the permanent roof will be installed this week, weather permitting. This work involves adding insulation to the vapor barrier previously installed, then rolling out the white, reflective roofing, which is part of the LEED certification for the building.
Precast exterior brick. Installation of the exterior brick precast panels continues on the north side of the building and will  begin on the west side of the north wing this week. Construction crews will also begin interior and exterior caulking of the pre-cast panels this week.
Fireproofing and wall framing in the lobby. Fireproofing continues on the second level of the lobby area this week, while crews lay out the steel stud wall framing on the third level.
Interior wall framing. Wall studs for the interior walls on the first level of the west wing will begin to be installed this week. The layout of the interior spaces is beginning to take shape.
North stair. Installation of the north stair, near South 6th Street on the north wing of the building, will continue this week, with the work continuing up to the second level.
Partial street closure planned next week. McGough Construction is working with Augsburg College and the City of Minneapolis to close a portion of 21st Avenue South to through traffic next week — after classes end for the semester — to pour the floor of the skyway. The timing of this work is dependent on weather and involves covering and heating the skyway 24 hours per day until the concrete is poured and cured. The work is expected to take a week and was intentionally planned during the holiday break to minimize impact on traffic and parking on campus. McGough will work to maintain sidewalk access in the area during the project.