Unseasonably warm weather helped advance construction work on the Hagfors Center last week. Below is a view from the tower crane of the roof work on the west wing.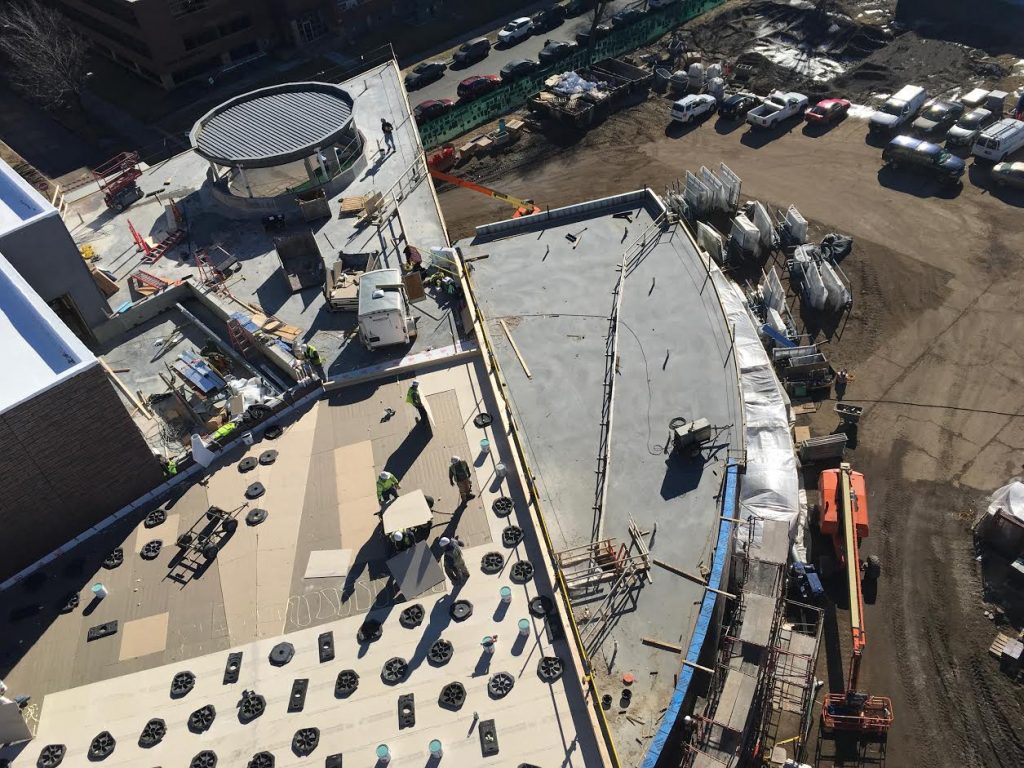 Construction Site Work
A view from the tower crane of the finished fourth-floor roof and adjacent mechanical area.

Roof work. Installation of the final layer of the roof is more than half done. The high roof (the roof of the fourth floor on the north wing) is complete (see photo at right), and work continues on the third-floor roof on the west wing (see photo above).

Lobby. Balcony railings will begin to be installed in the lobby this week. Crews also continue the work of laying out the horizontal steel support that will be attached to the concrete columns in the lobby and support glass lobby enclosure.

The main entrance to the Hagfors Center in the early dawn light.

Brick wall on flexible classroom. Brick laying continues on the south side of the flexible learning space. The exterior wall now reaches about 15 feet high. Work will continue on this wall for several weeks, then brick laying will begin on the front of the main entrance.

Stairwell work. Installation of the glass curtainwall on the west stairway is scheduled for this week.
Window frames and glass. Window frame and glass installation continues on the west wing this week, with crews focused on glass installation at the third-floor level.
Precast exterior. Precast installation is completely done except where the skip hoist is currently located. Installing the final precast brick in that area, once the skip hoist is removed, will require only a couple of days' work. The mobile crane used for the precast installation has been demobilized and removed from the construction site.
Interior work. Crews are installing drywall on the first floor of the north wing. In the basement, ceiling grid installation has begun, and interior painting is ongoing.