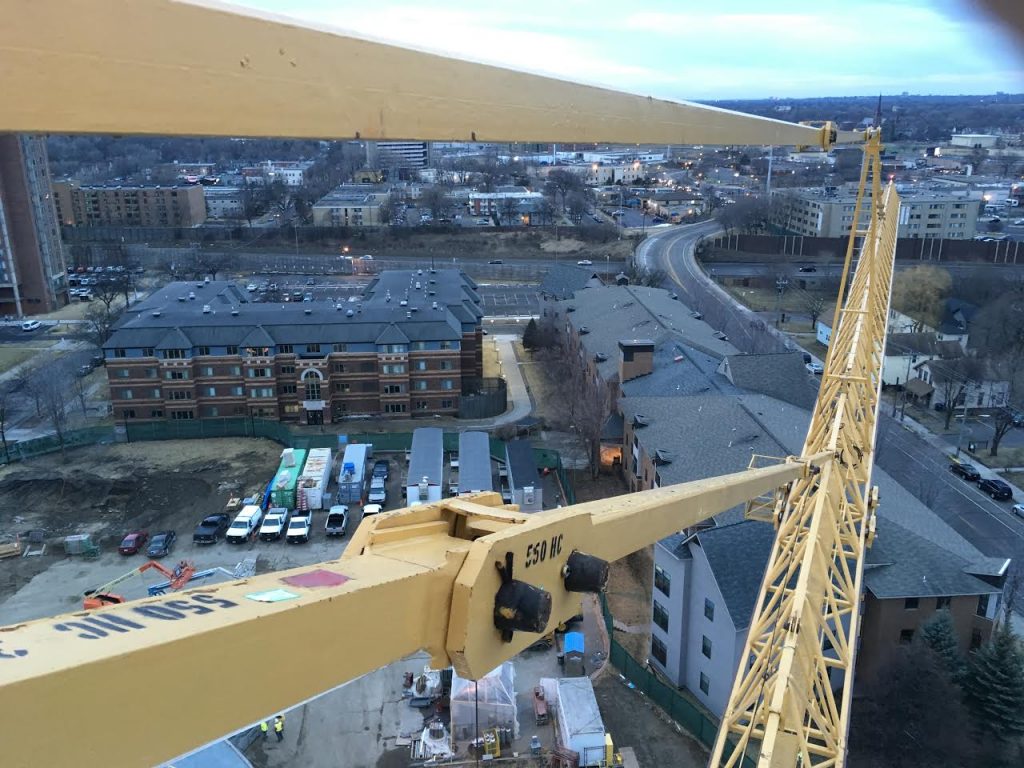 Construction Site Work:
Tower crane demobilization. Last week, the tower crane was removed from the Hagfors Center construction site, as it is not required for the remainder of the construction project. The tower crane had been on the site since May 2016.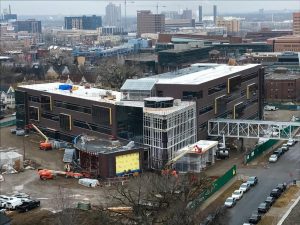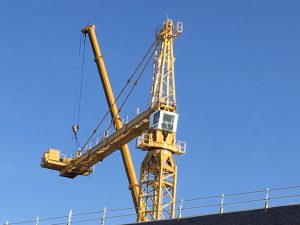 Curtainwall framing. The final structural connections for the main lobby curtainwall framing will be completed this week (see photo at left). A majority of the

The final framing of the exterior curtainwall, on the "prow" of the lobby area, is underway this week.

glass installation on the lobby curtainwall will also be finished by the end of the week. Crews have begun installation of the exterior framing for the flexible classroom,as well. With the curtainwall framing in this area anticipated to be complete by the end of the week, the curtainwall framing for the entire building will be substantially complete. The only remaining curtainwall area is where the skip hoist is currently located on the north end of the building.

Hand-laid brick. Work is in progress on the hand-laid brick for the main entrance of the Hagfors Center.
Fourth-floor exterior. Installation of the metal louvers on the fourth-floor exterior walls is in progress this week.
North elevator. Installation work continues on the elevator at the north end of the building.

Scaffolding is being installed around the chapel this week to support work at the upper level of the lobby.

Scaffolding in lobby area. Crews are installing temporary scaffolding on the third level of the lobby area — around the suspended chapel (see photo at right) — to support interior work in the upper area of the 3-story lobby.

Interior work. Tile work has begun in the bathrooms, and installation of lights and electrical switches has begun in the basement level of the building.