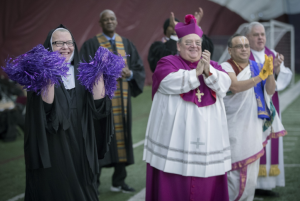 Clergy leaders from around Minneapolis gathered at the Augsburg University athletic field to film a football-themed video hosted by the Minnesota Super Bowl Host Committee. The purpose is to raise funds and awareness to end homelessness through the Emergency Rental Assistance Program, and to promote unity across faiths, races and politics.
"With the world's gaze on Minneapolis because of the upcoming Super Bowl, it was important for leaders to take a strong stand" said Pastor David Shinn
Former Vikings star was present to give orders to the team of interfaith clergy leaders. "Today is a little different… One heart. One mind. One spirit," explained Greg Coleman.
"And do a line of scrimmage with the Catholics and the Protestants and the Rabbis and Imams and the Hindus and the Unitarians all on the same team, pulling in the same direction, working on the same goal – all working to prevent homelessness. Something is happening in the interfaith community here that is pretty unique in our nation and it will be something our country and world needs – how we bridge these differences and our traditions. We had a common cause and football and the image of the field and diverse team really clicked with everybody all these traditions on the same team." said Tim Hart-Andersen of Westminster Presbyterian Church in Downtown Minneapolis.
Read the full article on the Kare 11 website Related articles: Star Tribune