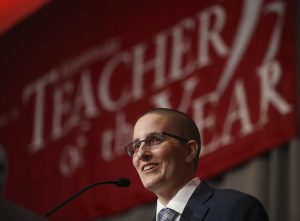 Kelly D. Holstine '11 is Minnesota's 2018 Teacher of the Year. She earned her M.A.E. from Augsburg in 2011 and currently teaches at Tokata Learning Center, an alternative high school in Shakopee.
"Every kid matters" is the motto she's carried throughout her 11-year teaching career.
"Sometimes they might need a little bit of extra love, a little patience, a little more understanding, and once they get that, they can flourish and blossom and excel and learn," Holstine told the Star Tribune's Pat Pheifer. 
Education Minnesota named Holstine the 2018 Teacher of the Year in May.
Read full story on the Star Tribune's website here.