Departmental Research
Biopsychology Lab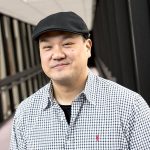 Dr. Henry Yoon
yoon@augsburg.edu
Our lab investigates how on-going brain activity in participants at rest (i.e., resting EEG) is related to past substance use behaviors (e.g., heavy drinking, early cigarette use), and history of substance dependence. This resting EEG brain activity is assessed in volunteering participants from Augsburg's StepUP® Program who are in recovery from substance dependence as well as volunteering student participants recruited from Augsburg University.
We hypothesize that despite abstaining from substance use, certain EEG brainwave activity will distinguish StepUP® participants with prior history of substance dependence from controls who did not present such a history. In general, such findings may help further elucidate potential brain measures related to substance dependence and perhaps even relapse. Overall, such research may better inform future treatment strategies. Interested students should contact Dr. Henry Yoon about research opportunities.
---
Clinical Psychology Lab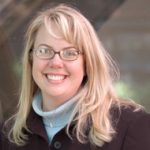 Stacy Freiheit, PhD, LP
freiheit@augsburg.edu
In the Clinical Psychology lab, students are engaged in ongoing faculty-led research about evidence-practices for anxiety and on projects that examine the relationship between religious coping and mental health. Recent student-led projects include spiritual struggles and hopelessness, emotion regulation and substance use, and thin-ideal and body image. Students in the Clinical Psychology lab often share their research findings at local and national Psychology conferences. Interested students should contact Stacy Freiheit, PhD, LP, about current opportunities to engage in clinically-relevant research.
---
Cognitive Geropsychology Lab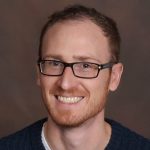 Ben Denkinger, Ph.D.
denkinge@augsburg.edu
Researchers in the Cognitive Geropsychology lab seek to investigate age-related changes in memory, attention, and perception during the process of normal aging. Student investigators interact with our older adult participants, aged 60+, as we examine such topics as the role that emotion plays in shaping younger and older adults' sense of the passage of time, or the ways in which memory for different types of information vary across the lifespan. For more information about our research, contact Ben Denkinger, Ph.D.
---
Identity and Well-being (iWell) Research Lab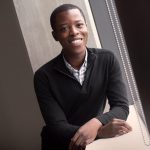 Dr. Alex Ajayi
ajayi@augsburg.edu
In the iWell Lab, our research focuses on the intersection of identity, culture, and well-being. Current research interests include social identity development (e.g., as related to race, gender, class, sexuality, politics, immigration); stereotyping, prejudice and discrimination; mental health and well-being; social networking and online communities; and innovative psychological interventions. Our research integrates different sub-disciplines of Psychology (clinical-counseling, social-personality, developmental) and employs quantitative and qualitative research methods. Interested students are encouraged to contact Dr. Ajayi.
---
Memory and Development Lab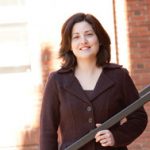 Dr. Evren Güler
guler@augsburg.edu
In the Memory and Development Lab, researchers study basic memory processes in children and young adults. The primary interest is in understanding the development of episodic and autobiographical memory. Current research projects focus on examining the role of cognitive control in strategic search and retrieval of autobiographical memories. Interested students are encouraged to contact Dr. Guler.
---
Psychology and Law Lab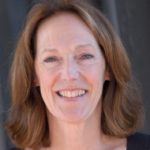 Dr. Nancy Steblay
steblay@augsburg.edu
Augsburg's Psych and Law lab has produced research on eyewitness memory and police identification procedures for 20+ years. Dr. Steblay works directly with law enforcement agencies and policy-makers to assess and to implement reforms in police field lineup procedures. The goal of the research is to develop procedures that reduce the likelihood for false identifications of innocent suspects. Augsburg students are important contributors to the research. The field and laboratory experiments are funded by the National Institute of Justice.  Currently, Dr. Steblay is a member of the scientist team for a national field experiment of eyewitness identification procedures conducted by the American Judicature Society. An additional line of research has explored the impact of various types of courtroom evidence (e.g., eyewitness and alibi evidence) on jury decision-making.
---
Social Psychology Lab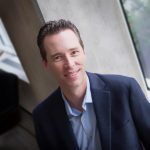 Dave Matz, Ph.D.
matz@augsburg.edu
Research in the Social Psychology lab is focused on two primary topics: 1) Evolutionary Psychology and mate selection, and 2) the influence of cognitive dissonance in the decision-making process. Much of the current work in the lab employs eye-tracking technology to examine how people attend to images of potential mates and how factors such as hair length and hair color can influence perceptions. For more information about research in Social Psychology, contact Dave Matz, Ph.D.
---
Student research at Augsburg
It's not uncommon to associate "research" with a scientific laboratory, microscopes, and tiny glass slides smeared with cells. But research at Augsburg is more than Bunsen burners and petri dishes.
Every year students in the Natural and Social Sciences, the Humanities, and the Arts conduct intensive 10-week summer projects as well as ongoing projects throughout the year. To meet some of these student researchers and many others, attend Zyzzogeton, Augsburg's annual celebration of academic and artistic student achievement.
Read about the research of Psychology majors Lucreshia Grant '11 and Walker Krepps '12 in the Spring 2011 issue of the Augsburg Now.