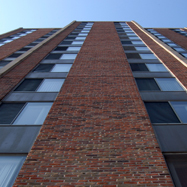 View Mortensen Hall on the campus Virtual Tour
Mortensen Hall is named after Gerda Mortensen, who was the long time Dean of Women at Augsburg University. This residence hall offers apartment style housing for students. At 15 stories tall, it is the tallest building on campus. The 13 residential floors have eight apartments on each floor with an even mix of one and two bedroom living styles. Resident Advisors, one living on each floor, provide leadership for each floor and organize social and educational programs, floor meetings, and help develop strong community.
Amenities include
Shares a lobby connection to Urness Hall (first year residence hall) with access to 24 hour computer lab
Connected by skyway to Christensen Center (Dining Commons, Einstein's, student lounge, tunnel system, student affairs offices)
Bed, mattress, and dresser for each person
One desk and desk chair per two people or per bedroom
Kitchen with oven and stovetop, mini refrigerator, pantry, and sink
Full bath
Living room
Heat (controlled in each individual apartment by residents)
Wi-Fi and ethernet connections
Free laundry on ground floor with smartphone monitoring and tracking system
Lounge on lobby level open 24 hours per day
Pool table, foosball table
Food and beverage vending machines, public microwaves
Big screen televisions in lounges available 24 hours a day
Single sort recycling, trash, and compost disposal in building with trash chute on each floor
24-hour maintenance support
Amazing views of the city (15 floors)
Parking surrounding building
1 bedroom apartments have total square footage of 474 feet. 2 bedrooms have total square footage of 620 feet.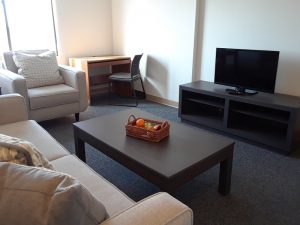 Mortensen Hall
801 21st Avenue South
Follow us on Instagram and like us on Facebook!
---
INTERIM Residence Hall Director
Ashley Adegeye
612.330.1526