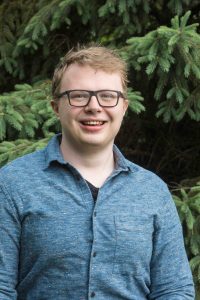 The URGO Summer Research Program is an 11-week, on-campus program where students are funded to conduct research with a faculty mentor. Students receive support throughout the research process from their faculty mentor, a Speaker Series, and weekly seminars with fellow researchers.
Gabe Benson conducted research this past summer under the mentorship of English Professor, Sarah Groeneveld.  Gabe shares his reflections on his summer research experience below.
What was your project?
My project focused on fifty Minnesota Book Award-winning novels and how they were (and were not) representative of diversity by comparing it to Census data of Minnesota. I read twenty-five adults novels and twenty-five young adult novels and kept track of primary characters, secondary characters, and tertiary characters. I then kept a list of the gender, race, and sexual identity of these characters.
What did you learn?
I learned that, in most cases, the novels greatly represent minority groups. This was the case for black, Latino, Native American, and LGBTQIA+ people. Women and Asians were both underrepresented.
How did this project help you grow and develop academically?
Reading such a large number of novels in such a short amount of time was immensely gratifying. I feel like I am now more aware of character diversity in the books that I read and how those characters are (or are not) reflective of the diversity of society around me. Also, being held accountable was challenging but gratifying. Working on my own most days was a new experience for me, and I definitely grew from it.
What would you like to see happen with your research?
I would like to continue exploring certain facets of my research (e.g. intersectionality, author identity, etc.) and also continue the research as each year of the awards gives new awards for fiction and young adult fiction. I would like to one day get it published.
What was the hardest part? The easiest?
The hardest part was the point in my research experience where I was faced with a mountain of data from fifty novels, and I needed to turn it into a thesis. That was very intimidating, but it was very gratifying to see it come to fruition. The easiest part was getting to read all day as a full-time job. Reading is my favorite activity, so it was a pretty awesome experience to have gotten paid to read novels all summer.
What advice would you give Social Sciences, Humanities, and the Arts (SSHA) summer researchers?
My advice to SSHA students is that you will need an overly specific grant proposal. Four-hundred hours in ten weeks may seem plausible to tackle a topic, but I think SSHA students need to focus on how their research idea can fill eight hours in a day. I can propose that I will study Beethoven's symphonies as my topic, and that could fill 400 hours, but what will you be doing those eight hours of your work day? Will you be listening to music for eight hours? Probably not. You need a plan for each day that is realistic and reachable. You can make a research proposal looking at something that you love, but it can sound plausible to fill 400 hours with something you love, but those eight hours can often be daunting when you begin the day. For me, I read a whole novel each day. This is not something everyone can do, but I went to different libraries, different coffee shops, and different spaces to shake things up and keep me active so I wouldn't be sitting in my house all day. It may seem hard to make such a detailed plan for your research, but I think it is necessary.
Please join us at one of URGO Summer Research Information Sessions to learn more about the program, hear from past summer researchers, and get the inside scoop on the application process.
Tuesday, November 28th @3:30 in the Marshall Room
Wednesday, November 29th @6pm in OGC 100
Interview conducted by Grant Berg