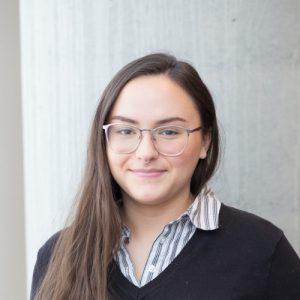 One of URGO's primary roles on campus is to offer academic year and summer research opportunities to students across campus. Additionally, URGO helps students find off-campus research opportunities that diversify their portfolio and build their research skills. One alum who chose to look off-campus was Laura Fricke '19.
Fricke conducted research under Dr. Matthew Beckman in the summer of 2018. URGO helped her discover that a future of scientific research may be the career for her, but Fricke wanted to verify that hypothesis in a new, exciting environment. She turned to the National Science Foundation (NSF). The foundation funds Research Experiences for Undergraduates (REU) all over the nation; this was the avenue through which Fricke found her REU at the American Museum of Natural History (AMNH) in New York City. She used her interests from URGO's lab (functional genomics as well as evolutionary and developmental biology) to find a specific project and mentor that interested her. Fricke spent the summer of 2019 living in NYC with a cohort of 9 other researchers; they attended classes through the AMNH's graduate school every Monday and spent the rest of the week on their respective research projects. Fricke conducted research on the cuticular pattern formation of hexapods and did so mostly independently after learning new protocols and research methods. Her summer concluded with the submission of a research paper and an oral presentation to 50-70 scientific professionals at the museum. While this off-campus research offered valuable exposure to new methods, equipment, and skills, Fricke emphasized the lessons from URGO that prepared her for her REU. "I took the protocols and methods from URGO [to New York]," said Fricke, "as well as time management, navigating a lab, speaking to a mentor, and writing scientific papers." The two experiences built upon each other to help Fricke learn about herself as a scientist and confirm her career goals as a researcher.
Upon completion of her REU, Fricke applied to graduate school and will now be being pursuing a Ph.D. in Entomology and Microbiology at the University of Minnesota this fall. Additionally, she was awarded a Diversity of View and Experience Fellowship (DOVE), a prestigious award that funds two years of graduate study to 18 students at UMN.
Fricke believes there are many reasons current Auggies should pursue off-campus research.
A second research experience sets apart graduate school and scholarship applicants.
More people can attest to your abilities as a researcher and student and provide meaningful recommendations.
If you conduct research in a new place, you are exposed to a different culture and way of life that widens your worldview.
Without her NSF REU, Fricke does not think she would be in the position she is today, confident in her career as a scientist and pursuing a field of study she could never have imagined without her research experiences. If you have not considered pursuing an off-campus research opportunity, let Fricke's story inspire you to do so.