Hosted by URGO, McNair, and STEM Programs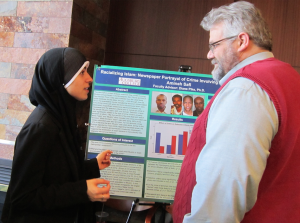 The 2021 Zyzzogeton Research Symposium will be held virtually
Tuesday, April 13th, 2021
3:00-4:30pm
Those who need any disability-related accommodation to fully participate in this event are encouraged to contact University Events at events@augsburg.edu or 612-330-1104. Remember to have the name, date, and time of the event with you when contacting their office. Please allow for sufficient time to arrange the accommodation.
---
Hagfors Zoom Room
3:00 – 3:18 Biochemistry & Chemistry (Camden, Ellena, Lobdell, Lor, Puchaicela)
Moderator: Ben Binder
3:20 – 3:38 Biology 1 (Fairbanks, Llapa, Moua, Oblitey, Radilla, Rogge)
Moderator: Matt Beckman
3:40 – 3:58 Economics & Sociology (Chastain, Jewell, Medina, Mendoza, Morales Delgado)
Moderator: Diane Pike
4:00 – 4:20 Art, Music & Theater (Astani, Eck, Grand, Reinan, Velesaca)
Moderator: Dan Ibarra
Sverdrup Zoom Room
3:00 – 3:18 Chemistry (Lu, Poppen, Rasche, Sabino Pina, Tawakalna)
Moderator: Michael Wentzel
3:20 – 3:38 Biology 2 (Cantoran, Huynh, Kannare, Oteju, Warrington)
Moderator: Jennifer Bankers-Fulbright
3:40 – 3:58 Psychology (Ahamadeen, Christopher, Kelly, Nieder, Seltzer)
Moderator: Ben Denkinger
4:00 – 4:20 Business, Exercise Science & Social Work (Ahmed, Jones, Lessert, Nelson)
Moderator: Melissa Hensley
Memorial Zoom Room
3:00 – 3:18 Math, Statistics & Computer Science (MSCS) (Arns, Miller, Strombeck, Xiong)
Moderator: Rebekah Dupont
3:20 – 3:38 Biology 3 (Bieganek, Holewa, Litwin, Shiongyaj)
Moderator: Leon van Eck
3:40 – 3:58 Anthropology & Gender, Sexuality, Women's Studies (Chang, Gaskill, Robles 
Olivar)
Moderator: Cruz Rodriguez
Lindell Zoom Room
3:00 – 3:20 Physics (Armbruster, Boysen, Panora, Yang)
Moderator: Ben Stottrup
---
Augsburg celebrates the creativity and scholarship of undergraduate students with its annual Zyzzogeton festival. The festival falls at the end of each academic year and is a culmination of achievement featuring work across departments. Over 80 students participate each year, showcasing their research. A "zyzzogeton" is a green leaf-hopper as well as the last word in the Webster Collegiate Dictionary, which is a fitting symbol to mark the end of the academic year.  The public is welcome, so please come join us for this exciting event!
Sample posters from past Zyzzogeton Symposiums: