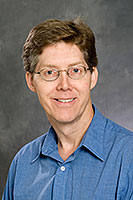 Each year, Augsburg PA students nominate and vote on their favorite preceptor from the clinical year. The award is given at graduation to demonstrate our appreciation for the preceptors in our community. This year, we are happy to announce Dr. Joseph McRaith as the winner!
Dr. McRaith specializes in internal medicine and practices as a hospitalist under Rotilie, Toman, & McRaith, LLC. A graduate of the University of Minnesota Medical School, he completed his residency at the University of Iowa Hospitals and Clinics and is certified by the American Board of Internal Medicine. Dr. McRaith is affiliated with HealthEast Care System and Allina Health in Saint Paul, Minnesota. He is a valued clinical instructor at Augsburg College and has precepted many classes of physician assistant students.
A graduating student who nominated Dr. McRaith had the following to say about his excellence as a provider and preceptor:
"While I was on the medicine service with Dr. McRaith, he let me learn at my own pace while seeing my own patients. At the same time, he supervised me and made sure that I understood the rationale behind each treatment plan. He pushed me to my full potential and helped me realize my passion for inpatient internal medicine.  During the whole rotation, I felt like my opinions mattered and that I was actually treated as more than just a 'student'. All of my classmates who have rotated with Dr. McRaith and his group have nothing but good things to say, even those who are not interested in internal medicine."
Congratulations to Dr. McRaith!