Admission to any physician assistant program is a highly competitive process. Augsburg College's graduate program in Physician Assistant Studies receives hundreds of applications every year for each entering class.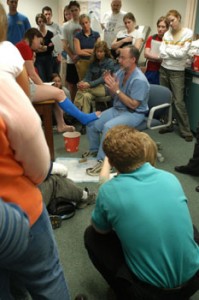 The Augsburg Physician Assistant Studies program has a two-step application process – applying through CASPA and to Augsburg's PA Studies program.
The Augsburg PA Supplemental Application (available in May each year)
The Augsburg PA Program participates in the Centralized Application Service for Physician Assistants (CASPA), which is sponsored by the Physician Assistant Education Association (PAEA). All applications to the PA Program for the entering class must be processed through CASPA, following all guidelines and regulations set forth by CASPA.
Your CASPA application is due AUGUST 1 and your Augsburg PA Studies Supplemental Application is due AUGUST 1.  You will be an eligible applicant if: you have a minimum cumulative GPA of 3.0 (as officially calculated by CASPA), you have a minimum science GPA of 3.0 (as officially calculated by CASPA), you have completed or will complete your undergraduate degree prior to the start date of the program, and you have completed or will complete your prerequisite courses within the timeline specific to your undergraduate degree status.
The Supplemental Application becomes available the first week of May each year when it is posted to our website for applicants to download and complete. It is important for the applicant to determine whether he or she is in fact eligible to apply to the PA Studies Program, as the $50 Supplemental Application fee is non-refundable.  You are an eligible applicant if you meet the criteria detailed above. You will be required to print and sign the Supplemental Application and mail it to the program postmarked August 1 or  prior.  Applications with a postmark later than August 1 will not be considered.
Additional Application Details:
The Augsburg PA Program requires three letters of recommendation submitted through the CASPA process. We strongly recommend that one be from an employer/colleague (a professional reference), we strongly recommend that one letter be from a professor or adviser (an academic reference), the third letter can be from a person of your choice.  Be sure that your letter writers are able to tell the committee about you as well as his/her experiences with you and observations about you.
Your Supplemental Application must be received in the PA Program office postmarked on or before August 1 in order to be considered.
We use the CASPA "Complete Date" to determine if you have met the application deadline of August 1.  The "Complete Date" on your application must be August 1 or prior in order to be considered meeting the deadline.  CASPA assigns a "Complete Date' when they have received your electronic application, transcripts from all schools attended, 2 of your 3 letters of reference, and payment.  Until those criteria are met, your application will not be given a "Complete Date."
Your GPA (cumulative and science) is set at the time of your CASPA submission.  The Augsburg PA Program will not recalculate GPAs as additional course work is completed post CASPA submission.  We will request grade reports for your prerequisite courses and add them to your file as they are completed, but your official GPA, as calculated by CASPA, will be the GPA of record for your application.
REQUIREMENTS FOR APPLICANTS WITH DEGREES FROM OUTSIDE THE U.S.
Foreign Credential Evaluation
Augsburg requires foreign credential evaluation for any transcripts from an institution outside of the United States. This evaluation should include the following:
Analysis of credentials—to determine if your degree is equivalent to an accredited U.S. bachelor's degree.
Course-by-course evaluation—to show your complete course listing with credit values and grades received for each course.
Calculation of grade point average—to demonstrate your cumulative grade point average using the standard U.S. grading system, i.e., A=4.0, B=3.0, C=2.0, D=1.0, F=0.0.
Translation to English (if applicable).
Refer to World Education Services at www.wes.org  for further information about transcript evaluation.  Please follow the CASPA guidelines for submission of  transcript evaluation documentation for the CASPA application.
In addition, the TOEFL is required to be completed by August 1st for those applicants who have completed an undergraduate degree outside of the U.S. (and for whom English is not their first language).  Find detailed information on our International Graduate Admissions page.
INFORMATION SESSIONS
Between January and June, the PA program hosts information sessions for potential applicants to the Program. The sessions run approximately one hour long (including Q & A afterwards) and provide an overview of the program, a summary of the application process, and a review of the prerequisite course requirements. Each session is limited to twenty-five attendees so that discussion can be facilitated in an effective manner.