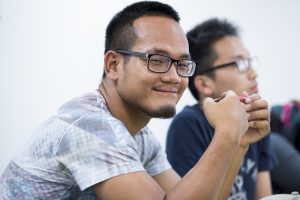 For incoming first year students who plan to enroll fall 2017 or spring 2018 and are not applying to Summer Bridge (or did not apply to Summer Bridge), and for transfer students the application process for TRIO/SSS is:
Be admitted to Augsburg
Complete an Augsburg TRIO/SSS application. Please note: before your application can be reviewed for the TRIO/SSS program, you must print, complete, sign and return the TRIO Taxable Income Form. If you were required to report your parents'/guardians' income information on the FAFSA, they will need to sign the form. 
Complete the 2017-2018 Free Application for Federal Student Aid (FAFSA)
If you are a current Augsburg student who is interested in participating in TRIO/SSS, please schedule an appointment with the program Director or Assistant Director to discuss the application process.
Admission to the TRIO/SSS program is not automatic! Completed applications will be evaluated for eligibility and admission. If admitted, you will be contacted about the next steps to begin your involvement with TRIO/SSS.
Applications will be reviewed in August for fall admission to the program. We hope to notify all applicants of their status by September 1, 2017.