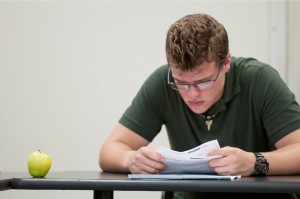 If you are an incoming student, the application process for TRIO/SSS (and Summer Bridge) is:
Be admitted to Augsburg College and submit/waive deposit to hold a spot in the first-year class.
Complete an Augsburg TRIO/SSS and Summer Bridge application, either:

Obtain from the TRIO/SSS office, or
Download from the TRIO/SSS website, or
Complete and submit online, or
Contact your Augsburg admissions counselor

Complete the Free Application for Federal Student Aid (FAFSA)
Current Augsburg students need only complete the TRIO/SSS application and ensure they have filed a current year FAFSA.
Note: admission to the program is not automatic. Completed applications will be evaluated for eligibility and admission. If admitted, you will be contacted about the next steps to begin your involvement with TRIO/SSS.
Students applying for fall admission to TRIO/SSS will be notified of their application status in mid-August.
Students enrolling fall 2015 or later please complete the 2015-2016 Augsburg TRIO/SSS Application (will open a PDF)