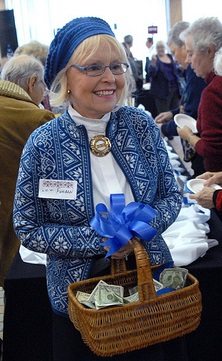 You might know Lee (Dyrud) Furman '61 from her time teaching in the social work department at Augsburg, or you might recognize her as one of the delightful Augsburg Associates dressed up in a bunad or traditional Norwegian costume at Velkommen Jul each year. She's also the recipient of an Augsburg Distinguished Alumni Award in 1989. Furman is among the many fantastic Associates volunteers you will see if you stop by campus on Friday, Dec. 5. Velkommen Jul begins with chapel service at 10:40 a.m. and moves to the Christensen Center from 11 a.m. to 2 p.m.
Furman fondly remembers the beautiful singing and enthusiasm of chapel, and the fellow alums she has known through the years. She has been a part of the Augsburg Associates for approximately 12 years, since she moved back to Minneapolis for the first time since college. She still remembers going to Velkommen Jul when she was a student. "It was quite splendid. I was very much in awe," she says.
She is inspired by other Associates' volunteers, among them Barbara Larson and Joyce Gustafson. "I admire them immensely. These women work so hard. It's a privilege working with them," she says.
One of the most special Christmases Furman remembers happened when she was teaching in the social work department of a school close to Oslo, on behalf of the University of North Dakota. It was 1998, and Furman, whose family is Norwegian on both sides, was able to stay with relatives and experience all the old Norwegian Christmas traditions to the fullest: enjoying all the special celebrations each day leading up to Christmas, going to church at 4 p.m., visiting relatives on Christmas Day. She stays in touch with her Norwegian roots beyond Velkommen Jul, and studies Norwegian at the Norwegian Lutheran Memorial Church in Minneapolis.
She has wonderful memories of her own time at Augsburg, too. She especially enjoyed hearing President Christensen speak in the chapel with evident emotion on the theme of "unto whom much has been given, much is expected." She came back from chapel overwhelmed with positive feelings. These early talks on the importance of service were inspirational for Furman, and helped motivate her toward a future in social work. She went on to receive her PhD, has written on the role of religion and spirituality in social work, and recognizes that these early memories left a lifelong impression. She is still grateful for the experience.
Donations made at Velkommen Jul help fund student scholarships, including the Christensen Scholars, a scholarship program supported by the Augsburg Associates' gifts to The Augsburg Fund. Current Christensen Scholars Katherine Brafford '17 and Boo Segersin '15 will be helping the Associates make waffles on Friday.
"I always tell people," Furman says, "tuition is high. We must give as much as we can to help as many students as possible." Look for Lee and her basket this Friday!