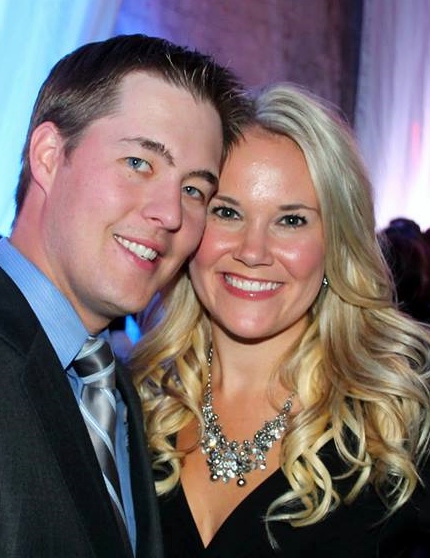 It may be a bit unusual for such a young alumnus to be as active in volunteer work as Josh Krob '08 is, but he readily admits that his employer, Wells Fargo, provides ample opportunity to do so. In addition to volunteering for charitable organizations, such as Habitat for Humanity and Feed My Starving Children, he has coached and supported various sports organizations as well. He has naturally gravitated toward hockey, the sport he played and loved most growing up; and he has helped the Eastview hockey team, Kansas City Stars, and Blake School hockey program.
Recently, another opportunity captured his imagination and passion—raising research funds for the Cystic Fibrosis Foundation. He and 19 other likeminded individuals took on the challenge individually and raised more than $120,000 for CFF. Krob and the other 19 were each granted the prestigious "Twin Cities Finest" award, in recognition of their community volunteer efforts and professional growth in their fields.
Currently an employee benefits consultant for Wells Fargo Insurance Services, Krob brokers and consults in the design and implementation of employee benefit programs for customers, with a key focus in recent years on consulting strategies regarding health care reform. A believer in the value of lifelong learning, Krob is in the MBA program at Augsburg, where he has found another opportunity to surround himself with skilled professionals who have been helpful in expanding his skill-set and his understanding of how to become a more effective leader.
A native of Apple Valley, Minn., Krob likes to tell the story about why he chose to attend Augsburg, though it had seemed more likely that he would attend (and play golf and hockey at) one of the other schools within MIAC, the sports conference with an excellent reputation for both academics and sports. In an overnight visit on campus, Krob met three other prospective students—individuals whom he likely would never have met in any other setting. They made a remarkable connection, staying up late to discuss everything from favorite sports teams, political theories, and observations from their past, to their future goals. While Krob had expected that college would be a place for continued growth, he was stunned that, in a 24-hour period, he had spoken more in depth about himself and learned more from these three than he had in the previous 18 years of his life with some of his closest friends. He saw the caliber of students Augsburg was recruiting, and knew then that there was something special about this institution. His student experience reinforced that sentiment.
Krob continues to stay in touch with many Auggie classmates and professors, particularly in his role on the Augsburg Young Alumni Board. He and his wife, Chelsea, live in Savage, Minn.
—by Cheryl Crockett '89