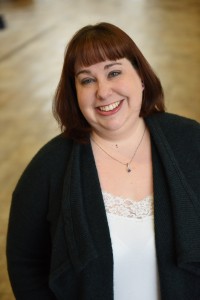 Katie Koch '01 joined the Alumni Relations team as Director of Auggie Engagement in January. We're so excited to welcome this wonderful Auggie on board. She's here to listen to you, plan alumni events, and find more ways for alumni to stay involved in the life of the College. Why not hear it straight from Katie?
What does it mean to be the Director of Auggie Engagement?
In this position I have the opportunity to connect with alumni, parents and friends of Augsburg. It's my hope that we can continue to connect Auggies to the college, to their classmates and to fellow Auggies. As an Auggie you are important to the College, and we want to find ways to engage you, help to continue your learning, grow your network and use your talents to the benefit of Auggies.
What's your favorite memory from your time at Augsburg?
I was involved in The Augsburg Choir, Augsburg Band and Jazz Band. I have some strong memories of times that we spent together on various tours. One that stands out to me is our joint band and choir tour to Arizona where we were snowed in in Flagstaff.
I loved being a part of Advent Vespers, especially standing all around Central Lutheran holding our candles and singing Silent Night. It still stirs up quite a bit of emotion in me.
Continue reading "6 Quick Questions with the New Director of Auggie Engagement" →