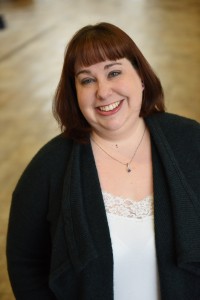 Katie Koch '01 joined the Alumni Relations team as Director of Auggie Engagement in January. We're so excited to welcome this wonderful Auggie on board. She's here to listen to you, plan alumni events, and find more ways for alumni to stay involved in the life of the College. Why not hear it straight from Katie?
What does it mean to be the Director of Auggie Engagement?
In this position I have the opportunity to connect with alumni, parents and friends of Augsburg. It's my hope that we can continue to connect Auggies to the college, to their classmates and to fellow Auggies. As an Auggie you are important to the College, and we want to find ways to engage you, help to continue your learning, grow your network and use your talents to the benefit of Auggies.
What's your favorite memory from your time at Augsburg?
I was involved in The Augsburg Choir, Augsburg Band and Jazz Band. I have some strong memories of times that we spent together on various tours. One that stands out to me is our joint band and choir tour to Arizona where we were snowed in in Flagstaff.
I loved being a part of Advent Vespers, especially standing all around Central Lutheran holding our candles and singing Silent Night. It still stirs up quite a bit of emotion in me.

Did you have any mentors as a student?
I studied in the Theater and Music Departments and those programs are so all encompassing so I very naturally feel a strong connection to all of those amazing faculty: Michael Burden, Darcey Engen, Martha Johnson, Sonja Thompson, Jill Dawe, Merilee Klemp, Peter Hendrickson and Bob Stacke.
Michael Burden '85 in the Theater Department was a terrific mentor to me, he was a supportive professor who worked really closely with me to make sure that I had the tools to be a successful theater professional. Michael has continued to be a touchstone for me to Augsburg. I also really loved Dr. Stephen "Gabe" Gabrielsen '63—he had such a kind heart. I remember a time I was sick and had to miss classes for a few days and he came to check on me. You also can't help but love a professor whose textbook is the Lutheran Book of Worship.
What are you looking forward to most about your new role at Augsburg?
I am looking forward to further learning the story of Augsburg through its people. To meet the people who have shaped this institution. I'm here to help people reconnect, to listen to everyone's stories and ideas, and plan for alumni programming that meets the needs of more Auggies than ever.
What was the greatest experience in your working career?
I worked at the Guthrie Theater during the Guthrie's festival honoring the playwright Tony Kushner. I have long been a fan of Tony's work. Having the opportunity to work closely with Tony to support him while he wrote his new play was an extraordinary opportunity.
What's one thing that people are usually surprised to learn about you?
I was a euphonium player! That was my instrument when I was in junior high and high school and the Augsburg Concert Band. I even had a performing arts scholarship in Euphonium. I played for almost 10 years, and unfortunately haven't picked one up since I left Augsburg in 2001.