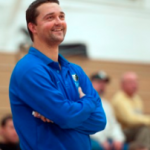 This year's Auggie Networking Event on February 9 is the perfect opportunity for graduates of all class years and majors to connect with fellow Auggies, support student success, and build your Auggie network. This event is open to all students and alumni, and features pop-up speakers, free headshots, refreshments, and more. Beyond expanding your own alumni network, the event offers the chance to open doors for current students.
When Nick Rathmann '03 made his way to the Augsburg campus last February for the Auggie Networking Event, he encountered blizzard conditions. But the Blake High School athletic director—not inclined toward defeat—arrived safely, only to find 250 others there as well. The popular annual event offers an evening full of connecting opportunities both for students seeking work and for alumni who can help, as well as for alumni seeking new positions.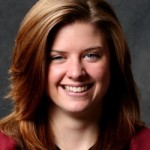 Sometime that February evening, Rathmann was introduced to Kendall Christian '15, an Exercise Science major who was about to graduate. He discovered that she had played hockey all four years, as well as club lacrosse for two. Impressed with her professionalism and polish, as well as the description of her journey through hockey, he saw in her an ability to understand the value of the process. Her passion for sports and development was obvious to him, and he could sense she had learned some incredible life lessons, and possessed remarkable leadership skills. As Rathmann says, "Credit to Augsburg, both teachers and coaches, for her preparation. Credit to her for her motivation and focus on professional development."
Rathmann mentioned a girls lacrosse coaching position opening up in the spring, so Christian followed up with an email, and was soon invited to the school for further discussion. Soon after, she was offered the position at Blake School, where she found amazing support for athletes and students among coaches and teachers—"professional and personable."
Christian says, "It can be intimidating to market yourself, but Augsburg alumni are invested in helping students." She hopes all students will use this extensive network to their full advantage.
Rathmann believes Augsburg students are inherently competitive and motivated—competitive just to get into the school, and motivated by the best traits of other students, teammates, faculty, and coaches. Those traits "rub off on you," and you take them with you.
From the point of view of a professional alum, Rathmann says, "We have all been helped and mentored. It's important to pay it forward when we can. A cup of coffee and a 30-minute conversation can go a long way. Augsburg grads are everywhere—and that is a great thing!"
See Kendall Christian at this year's
Auggie Networking event
on February 9. As one of the evening's pop-up speakers, she'll share more about her story and experience as a young alumna.
—by Cheryl Crockett '89