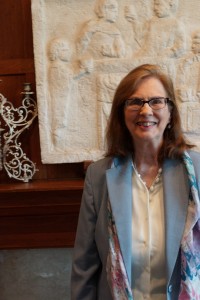 Early in life, Grace Dyrud tested seven standard deviations above the mean on a measure of endurance, she joked at her retirement reception in May. Dyrud began teaching in the psychology department at Augsburg in 1962, and in more than five decades at Augsburg she exemplified not only endurance but a deep commitment to her students. Her areas of research include gambling risk and attitudes toward the environment.
At the reception, attended by psychology faculty and alumni from every decade of her career, Dyrud thanked Keith, her husband of 49 years, as well as her children, students, and colleagues. All six of her children are Auggies. Lars Dyrud '97 and Lara (Dyrud) MacLean '90—a music major who played the violin at the reception—were in attendance and shared words of support and admiration for her long career. Alumni stood to thank Dyrud for encouraging their path to vocation, speaking truth to power, and supporting feminism at a time when it was unpopular.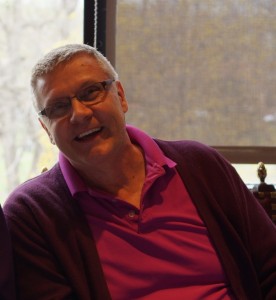 Neil Paulson '77, a psychology graduate, initiated an effort to honor Dyrud on her retirement from Augsburg with a scholarship for a female psychology student.
"I remember Dr. Dyrud as a caring instructor who was always willing to talk with her students. For many of her 52 years at Augsburg, she led the psychology department as chair. Through her published research, we have a better understanding of addictions like gambling. Dr. Dyrud represents what was and is still today special about Augsburg—student-centered faculty who excel in their field," Paulson says.
To date, the scholarship has received $6,000 toward the $25,000 goal.
Alumni and former faculty in attendance included: Kala (Dable) McClellan '98, autism specialist; Neil Paulson '77, alum and scholarship donor; faculty emeriti Dr. Duane Johnson, psychology; Soterios '66 and Elizabeth '66 Stavrou. Fred Wessman '65, semi-retired industrial/organizational psychologist; Gretchen Christianson; and Jessica Mabin '03.
Guests read letters written by alumni who could not be a part of the gathering, including Judge LaJune Thomas-Lange '75, Dr. Rick Seime '70, and Dr. Paul Wulkan '65.
In addition, Augsburg psychology faculty presented Dyrud with a legacy brick, purchased in her honor. The brick will be displayed in the new Center for Science, Business, and Religion, which will house the psychology department. Faculty who contributed to the brick purchase in her honor include: Nancy Steblay, Bridget Robinson-Riegler, Henry Yoon, Ben Denkinger, Evren Guler, David Matz and Stacy Freiheit. Other faculty in attendance include Boyd Koehler and David Murr '92.
In retirement, Dyrud looks forward to enjoying cultural events around town as well as producing more art and music herself. She will continue to improve her Norwegian language skills. She regularly sees children and grandchildren who live locally and from to Maryland to Colorado and Tacoma. She will be teaching Psychology Seminar in the fall to help weekend students finish their program.
To support the scholarship initiative in Grace's honor, make a gift online and designate it to the Dr. Grace Dyrud Scholarship, or contact Amy Alkire at alkirea@augsburg.edu or 612-330-1188.