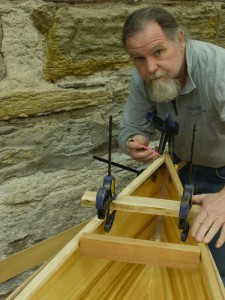 A liberal arts education that began decades ago in Weekend College led Dennis Davidson '89 to a life of discovery that landed him at the headwaters of the Mississippi River today, where he watched 16 Augsburg students head off on the River Semester in canoes that were built in his shop. The flotilla of canoes accompanying the students for the first 9 miles of their nearly 2,000 mile journey were paddled south in large, wood-strip canoes that Davidson built himself.
As the owner and primary boat-builder of NorthWest Canoe, Davidson sells most of his large, voyageur-style canoes to groups like Wilderness Inquiry, a River Semester program partner, which provided the canoes that students will take down the full length of the Mississippi, concluding their interdisciplinary semester in New Orleans this December. (See more about the River Semester here.)
The canoes can take up to 10 paddlers or 1,800 pounds apiece, and are intended to increase opportunities and make canoeing accessible to all ages and groups, including families with special needs.
Davidson makes big cedar-strip canoes, and will sell you everything you need to make a canoe yourself—many of the plans are free. He also stocks just about every part you might need to make a canoe repair or replacement. "If it sticks to the canoe, there's a good chance I'm going to carry it," he says.
The Right Degree
Augsburg's program for working adults, now called Adult Undergraduate, allowed Davidson, then a married father of two, to finish his degree.
"It was a real life-shaping experience," he says. With two toddlers at home, and deep and varied interests, including photography, the Weekend College program made college accessible for Davidson, who was working full-time.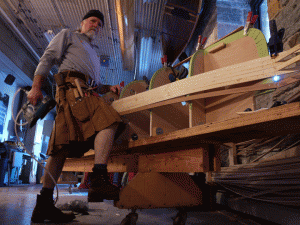 Completing his degree in marketing and communications allowed him to pursue a career in sales and marketing that took him into both the paper and software industries, before he came to work for Bell Canoe, then based in Princeton, Minn. Looking back, Davidson realizes that a lot of ambient learning happened there, talking with the people that designed the canoes, watching the production and knowing the product line in depth. "You couldn't be there and not learn, because it was a small business," he says.
Alongside his career journey, Davidson was pursuing his passions. He'd taken a part-time job at REI, and as a lifelong paddler, was involved in whitewater paddling and the board of the Minnesota Canoe Association.
After three years, when Bell was sold and moved out of town, Davidson was eager to try something new when a friend through the board of the Minnesota Canoe Association decided to sell his canoe-building business. Davidson saw that the path was his to follow.
Opting to build wood-strip canoes by hand came naturally to Davidson, but only because it naturally built on so much of his past experience. Growing up in Michigan, his dad was an electrician. "I grew up in a family used to working with your hands," he says. Not only that, he always knew he had a "creative, artistic bone buried somewhere in my body."
He enjoyed woodworking, but never had the tools until he became owner of NorthWest. Not that woodworkers know much about canoes. "Sometimes woodworkers make the worst boat builders," he says. Too many right angles. "Building a canoe is more like quilting."
Right Place, Right Time
Since he took ownership of NorthWest in 2007, Davidson has set off on a craftsman's life that covers many of his interests and skills. In his shop, housed in one of James J. Hill's original train warehouses in Lowertown St. Paul, Davidson is living his passion.
He absorbed the craft of building, apprenticing under NorthWest Canoe's founder, a former Norwegian finish carpenter and marine architect in the Navy.
He credits the ways in which his experience and a liberal arts education allowed him to pursue his dreams. Working in sales, marketing, the outdoor industry, and coordinating production control at Minnesota Valley Engineering, combined with his creative bent, informed his path. "All of the little building blocks came together," Davidson says. "I couldn't have done this when I was 30."
All summer long he's busy selling canoe repair kits and doing repairs on boats for individuals and collegiate and outdoor education programs. Davidson runs a self-sufficient shop, but he hires two part-time workers in the summer to help fulfill orders while he makes repairs. This year, one of his summer workers was a future Auggie.

Enjoying the Journey
In his early 60s now, Davidson doesn't take to whitewater much anymore, but paddling canoes is a pastime that won't fade. Even if he suffers from that professional hazard of being too busy during his high season to sneak away for long, he still manages to get out.
When it comes to his own canoe trips, he says it's not where you go so much as whom you're with and the experiences you share. "It's not just the paddling. It's the experiences you have in the environment," he says, "because paddling takes you places that you can't get to otherwise."
He makes time to play the banjo—an instrument he only picked up at age 59—and attends two or three banjo and old time music festivals around the country a year.
From October to March, you can find Davidson busy in his Lowertown studio, building big canoes while the snow flies. His goal is to build two big canoes a year, handcrafting them all himself, spending approximately 500 hours of labor for each canoe that retails approximately $15,000. The cost might seem high, but a canoe can be a lifelong companion.
"It makes me feel grateful that I have created a position for myself that allows me to feel challenged," he says. "The downside of it is you can't do it to get rich." Still, he's gratified to see more paddlers every year. He knows that the work, earned only through his skill, craftsmanship, and so much accumulated knowledge, has a place.
His customers—via internet orders from Florida and Texas in the winter, kit builders, canoe repairers, paddlers of all abilities from Wilderness Inquiry, and those who stroll through the door with a dream of a beautiful hand-hewn canoe—all are grateful for his work.