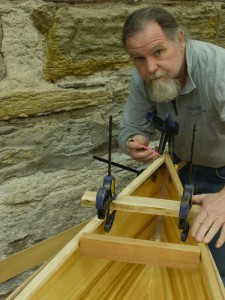 A liberal arts education that began decades ago in Weekend College led Dennis Davidson '89 to a life of discovery that landed him at the headwaters of the Mississippi River today, where he watched 16 Augsburg students head off on the River Semester in canoes that were built in his shop. The flotilla of canoes accompanying the students for the first 9 miles of their nearly 2,000 mile journey were paddled south in large, wood-strip canoes that Davidson built himself.
As the owner and primary boat-builder of NorthWest Canoe, Davidson sells most of his large, voyageur-style canoes to groups like Wilderness Inquiry, a River Semester program partner, which provided the canoes that students will take down the full length of the Mississippi, concluding their interdisciplinary semester in New Orleans this December. (See more about the River Semester here.)
The canoes can take up to 10 paddlers or 1,800 pounds apiece, and are intended to increase opportunities and make canoeing accessible to all ages and groups, including families with special needs.
Davidson makes big cedar-strip canoes, and will sell you everything you need to make a canoe yourself—many of the plans are free. He also stocks just about every part you might need to make a canoe repair or replacement. "If it sticks to the canoe, there's a good chance I'm going to carry it," he says.
The Right Degree
Augsburg's program for working adults, now called Adult Undergraduate, allowed Davidson, then a married father of two, to finish his degree.
"It was a real life-shaping experience," he says. With two toddlers at home, and deep and varied interests, including photography, the Weekend College program made college accessible for Davidson, who was working full-time.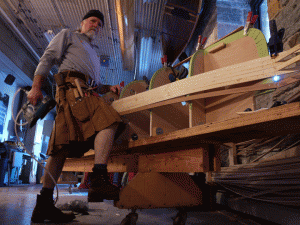 Completing his degree in marketing and communications allowed him to pursue a career in sales and marketing that took him into both the paper and software industries, before he came to work for Bell Canoe, then based in Princeton, Minn. Looking back, Davidson realizes that a lot of ambient learning happened there, talking with the people that designed the canoes, watching the production and knowing the product line in depth. "You couldn't be there and not learn, because it was a small business," he says. Continue reading "Crafted for the Journey: '89 Grad Gives Boats Their Start" →