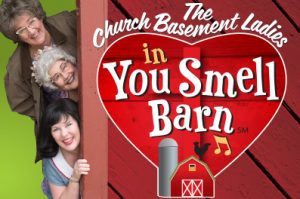 The Augsburg Alumni Office has set aside a number of tickets for Auggies to see the Sunday October, 14 showing of "You Smell Barn by the Church Basement Ladies at 2 p.m. in the Ames Center Black Box Theater (12600 Nicollet Ave., Burnsville, MN). Tickets are $33 and can be purchased at https://advancement.augsburg.edu/2018-homecoming-registration
This new musical comedy is based on a novel by alumnae Janet Letnes Martin '68 and Suzann Nelson '68 and features Janet Paone '83 reprising her role as Vivan Snustead.
About You Smell Barn
From the basement to the barn, your beloved Church Basement Ladies are back and getting busy with life outside the kitchen. After the last of the hotdish is served, the coffee pot is emptied, and the Jello molds are put away, these steadfast, sturdy women head to their farms, peel off their good girdles, and get on with their daily chores. In between picking eggs, milking cows, and dusting knickknacks, they congregate with some of the other lovable folks who inhabit this rural community: Earl, who delivers the mail up and down Rural Route One; Fergus, the hired man; and Tillie, who chronicles the action for the Fish County Weekly.
With plenty of crazy antics, loads of fresh laughs, and spanking new original songs, "You Smell Barn" celebrates rural life in the 1950's. And, at the center of it all, are your favorite Church Basement Ladies. Whether you've seen several versions, or are new to the world of the basement, the 7th in the Church Basement Ladies series is a musical treat for all.
Produced by Curt Wollan, Troupe America, Inc., "You Smell Barn" is written by Greta Grosch, with music by Dennis Curley; lyrics by Greta Grosch and Dennis Curley; and inspired by the new book "Growing Up Rural, You Smell Barn" by Janet Letnes Martin and Suzann Nelson.