---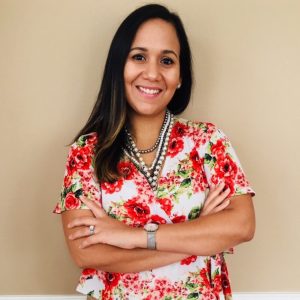 Originally from Tegucigalpa, Honduras, Killa Marti, Esq. '08 arrived in the United States in 2004 as a student. She obtained a bachelor's degree in International Relations and Economics from Augsburg University in 2008. Shortly after, she left to fulfill an employment obligation in China. After concluding her employment contract with the Hua Qiao Language Institute in Chang Chun, China, Killa returned to the United States to obtain a Juris Doctor from Hamline University School of Law (now Mitchell Hamline School of Law).
One of her nominators, Zaira Solano, says this about Killa in her nomination letter, "Killa is a relentless advocate, woman of integrity, and leader in everything that she does."
With the clear objective of working in the field of immigration, Killa took every opportunity to serve the immigrant population in the United States. She served in an internship at the Immigrant Law Center of Minnesota and was a volunteer for Civil Society, a nonprofit that works to help victims of human trafficking. She also completed a practicum at the law firm of Contreras Edin & Associates. Killa represented Hamline in the Inter American Human Rights Competition in Washington, D.C., and worked for the state legislature in Minnesota through its Minnesota Council on Latino Affairs. During this time, Killa also worked in the legal publishing division of Thomson Reuters, a global news agency and publisher. Upon graduation, Killa worked for the firm of Cole & Vondra, PLLC in Iowa City, Iowa, where she had the opportunity to litigate in the immigration courts of Omaha and Chicago. She also defended immigrant clients in the state courts of Iowa.
For the last three years, Killa has worked in Georgia, assisting the launch of the Immigration Services program at the nonprofit Lutheran Services of Georgia. During her time there, she worked closely with refugees and sponsors of unaccompanied minor immigrant children. Killa accepted a position at Solano Law Firm, litigating cases before the Atlanta Immigration Court and the Board of Immigration Appeals. She also serves as the leader of a low-income, volunteer-run legal clinic called Gospel Justice Initiative in the city of Clarkston, Georgia. Killa is licensed to practice law in Iowa, Georgia, and immigration law all over the nation, and is now owner and managing attorney of her own firm, Marti Law Firm, LLC.
Killa is known as a fiercely motivated attorney who works tirelessly for her clients in districts and cases where the decks are stacked against them. In signature Auggie fashion, her career has developed as one which recognizes the needs in our diverse world and takes meaningful action to meet those needs. She served as chair of the Pro Bono Committee of the American Immigration Lawyers Association chapter in Georgia and Alabama from 2016 to 2018, and she continues to pair clients in need of Pro Bono services with local attorneys and mentor lawyers early in their careers.
Killa has been called a person of faith, integrity, intelligence, commitment, and compassion. She embodies the values of Augsburg through thoughtful stewardship, critical thinking, and rigorous pursuit of justice and equity. She is dedicated to ensuring education and financial support are available to girls, and she is working to grow her acts of kindness into a nonprofit where she can empower more students so they can live to their fullest potential.