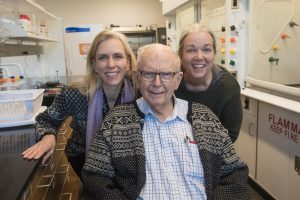 John R. Holum, Ph.D., is a beloved Augsburg University retired professor whose legacy spans over 30 years as faculty. He is a prolific writer who has published dozens of books and peer-reviewed papers, which have inspired not only generations of students who read his chemistry textbooks, but also thousands of researchers and teachers around the world.
One nominator says this of Holum in a letter of support: "In his life and work he embodies the very ethos of Augsburg's commitment to the education of the whole person…Dr. Holum's approach to pedagogy was both engaging and inspiring…he made the material accessible to all and exciting to learn. He was articulate and patient."
After serving in the Army, where he enjoyed a community of fellow scientists, Holum briefly taught chemistry at Pacific Lutheran University on the West Coast. Drawn to Augsburg in 1957 because it was at the center of population density for Lutheran students in the United States, Holum had a vision to empower the next generation of science and medicine students to be faithful Christian witnesses in a variety of industries and locations.
He came to Augsburg with a Ph.D. in organic chemistry and began to teach chemistry to nurses and pre-med students. Holum continued to work at Augsburg until his retirement in 1993, also teaching advanced organic chemistry and environmental chemistry, which students said should be required for all their classmates.
The more students he got to know—including one exemplary Augsburg student, Peter Agre '70, who later won a Nobel Prize for chemistry—the more he realized the caliber of their character, intelligence, and diligence. This deepened sense of appreciation for his students transformed into a drive to write textbooks that better suited the needs of students learning in his classrooms and others studying the alluring complexities of chemistry. Through discussions with traveling textbook salespeople and a summer of long days researching with a grant from the National Science Foundation, his creation of a single textbook developed into a successful writing and publishing career that complemented his teaching in the classroom.
Holum's lifelong passion for academic excellence and support of students on their educational journey reflects Augsburg's anchoring principles of robust liberal arts and professional studies, guided by the faith and values of the Lutheran church. Generations of students can attest to the transformational power of learning embedded within Holum's life and career. He was kind and generous as a professor, and is a man who lives a life of faith and service beyond the classroom.